Juandiego Wade Will Receive 2019 McIntire Award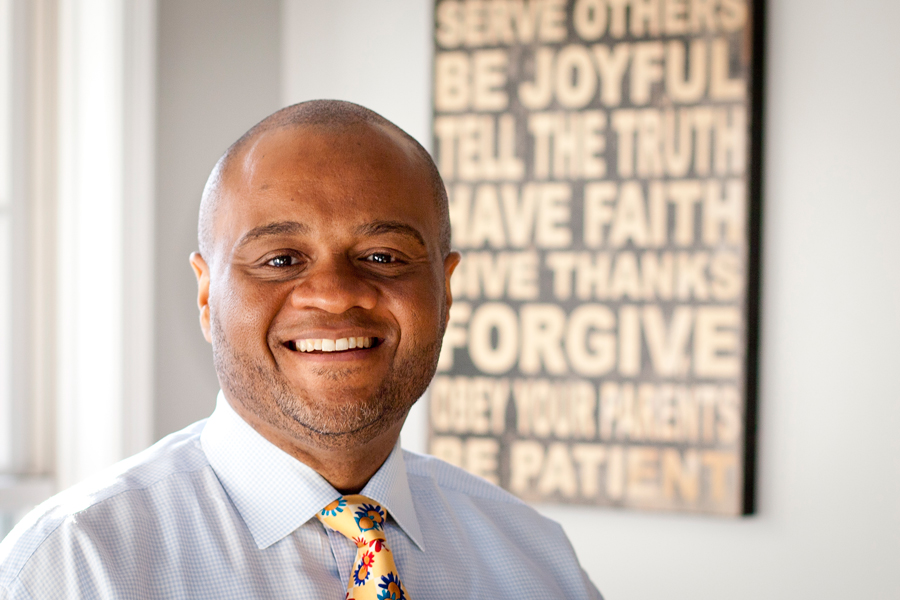 The Charlottesville Regional Chamber of Commerce has selected Juandiego Wade to receive the Chamber's 2019 Paul Goodloe McIntire Citizenship Award. The Chamber will honor Mr. Wade for his outstanding contributions to the Charlottesville community at the 106th Chamber Annual Dinner on Thursday evening, November 14, 2019, at the University of Virginia Inn at Darden in Charlottesville.
"We received a record number of nominations from the community this year," said Martin Burks III, Chairman of the Chamber Recognitions Committee and 2018 Chairman of the Chamber Board, as well as a past McIntire Award recipient. "We are fortunate to have so many outstanding individuals serving our community, and we're very pleased to present this year's McIntire Citizenship Award to Juandiego Wade."
Wade is the Career Center Coordinator with Albemarle County and has helped to build the Albemarle Career Center in its effectiveness and reach. He is a member and past chair of the Charlottesville School Board.
"One of Juan's strengths and his value to the community is that he knows Charlottesville's youth, not just their names, but personally," said Roxanne White, former Assistant County Executive for Albemarle County, in her nomination statement. "He does not serve from a distance, he gets in and works day to day with the youth of this community to help them thrive."
Since moving to the area in 1991 as a transportation planner for Albemarle County, Wade has served on over 35 boards and commissions, including the United Way, CATEC, ReadyKids, 100 Black Men of Central Virginia, and the Charlottesville Police Foundation Advisory Board. In 2018, he was appointed Co-Chair of the University/Community Working Group by UVA President Jim Ryan. Wade also volunteers with numerous local organizations such as Computers 4 Kids, Charlottesville Abundant Life Ministry, Habitat for Humanity, and PACEM.
"Juan does not just serve on a committee or team, he brings enthusiasm, a thorough attention to detail and a calm presence to every group he joins," said White. "He knows the right questions to ask and is always prepared and in this way serves as a role model to other team members. In working with community groups, Juan was able to bridge the gap between staff and citizens with a calm openness, but also a clarity about the task at hand and bringing a group to consensus."
A limited number of tickets are still available for the 2019 Chamber Annual Dinner, sponsored by Hantzmon Wiebel, Ting, and Flora Pettit. To reserve a seat for the dinner and McIntire Award presentation on Novembe 14, visit www.CvilleChamber.com.
Honoring McIntire Award Recipients at The Grove
In conjunction with the Chamber's presentation of the 45th annual McIntire Citizenship Award this year, a group of private citizens in partnership with the Chamber is raising support for The Grove, a stone terrace to be located under 150-year-old, historic oak trees on the sweeping hilltop on the east side of McIntire Park.
The Grove will honor community leadership with inscriptions of the McIntire Award recipients at the terrace, including local legends such as Mitch Van Yahres, Vicky Craw, Drewary Brown, and Jim and Bunny Murray. A line of newly planted native trees, dedicated to past community leaders, will shade a path from the park's pedestrian bridge to The Grove.
"We want to celebrate these dedicated leaders and instill the importance of community leadership with the next generation of rising youths in Charlottesville," said steering committee member Peggy Van Yahres.  "We also want to preserve the landmark oaks and provide a place that the whole community can enjoy."
Van Yahres hopes The Grove will serve as a catalyst for public-private partnership to improve the whole park.
Support The Grove: Visit www.CvilleChamber.com/grove to learn more about The Grove and how you can help.
Supporters of The Grove have set a goal to raise $600,000 by the spring of 2020. So far, they have raised almost half of that goal. With community support, The Grove's stone terrace and tree-lined walkway could be completed by the fall of 2020.
Donations toward the construction of The Grove may be given at www.ChamberAndGrove.com. For more information about The Grove, visit www.CvilleChamber.com/grove or contact Peggy Van Yahres, 434.953.6636 or vanyahresp@gmail.com.
The Charlottesville Regional Chamber of Commerce is dedicated to representing private enterprise, promoting business and enhancing the quality of life in the Greater Charlottesville communities.  Founded in 1913, today the 1,200 Chamber member and affiliate member enterprises employ more than 45,000 people in the Greater Charlottesville region, representing an estimated total payroll of more than $1.9 billion a year.
Chamber programs are supported by our Partners in Trust: CFA Institute, University of Virginia, UVA Health, Atlantic Union Bank, MPS, The Daily Progress, United Bank, UVA Community Credit Union, Wells Fargo, Great Eastern Management Company, Hourigan, R. E. Lee Companies, Sentara Martha Jefferson Hospital, State Farm, Tom Tom Festival, Bridge Business Transformations, Four Corners Real Estate Solutions, Marjorie Adam Team, Roy Wheeler Realty Co., and Story House Real Estate.