Mission / Vision / History
The Charlottesville Regional Chamber of Commerce advocates, convenes and engages to strengthen business in the greater Charlottesville Region.
The Chamber's simple yet clear vision is a thriving regional economy.
Our Chamber is transforming itself to better serve as the leading promoter and advocate for a vibrant, healthy business community. As the organization builds upon the accomplishments of the past, and acknowledges the challenges and vast opportunities that lie ahead, our Board of Directors is committed to moving into the future with ingenuity, energy, and a strong, unified voice for business.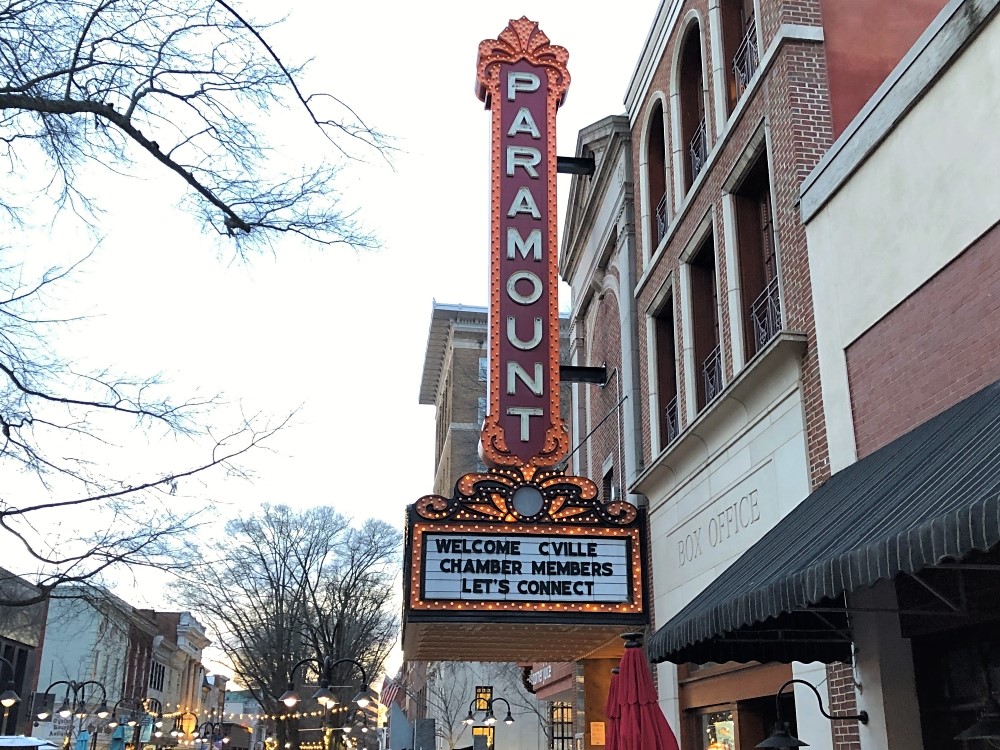 The Chamber envisions its role as a catalyst, convener, and communicator to support local businesses of all sizes and industries towards a common goal of economic growth that leads to community prosperity. The Chamber will relentlessly foster partnership and collaboration; grow and support big ideas that produce meaningful, measurable results for our members; and nurture a healthy business environment.
The world is watching Charlottesville. The Chamber has a once-in-a-generation opportunity to cast the net wide across the community, inviting all who can positively influence economic vitality and opportunity. By growing the Chamber's network, forging highly intentional partnerships with both traditional and unexpected collaborators, and shining a light on every success it discovers, the Chamber will build enduring bridges to a more successful future.
Our "How" / Guiding Principles
Think Big. Be Essential. Be Strategic.
Inclusivity
Transparency
Fact-based, data-driven analysis
Honesty and integrity
Positivity and optimism
Audacity
Advocacy
According to the Association of Chamber of Commerce Executives, a Chamber of Commerce is "an organization of businesses seeking to further their collective interests, while advancing their community, region, state or nation."  In early 1913, a group of local businesspeople sought to do just that. Gathering on Main Street in downtown Charlottesville, they created the Charlottesville Chamber of Commerce, growing out of a previous unincorporated chamber group.
Mr. A.D. Dabney was the first President of the Chamber Board of Directors, with Mr. E. C. McCarthy serving as Chamber Secretary. Since that date and that small group of leaders, our Chamber has grown into a leading and positive force within Greater Charlottesville. Today, our 675 Chamber member enterprises employ more 62,000 men and women in our area.
In the 110 years since its founding, our Chamber has been integrally involved in the establishment of major community initiatives, including: the American Red Cross – Central Virginia Chapter (1917), the United Way of Greater Charlottesville (1943), the Downtown Pedestrian Mall (1959), Charlottesville Albemarle Convention & Visitors Bureau (1970s), the Central Virginia Partnership for Economic Development (1996), Network2Work (2013) and Venture Central (2021).
As the business community evolves, so does the Chamber. Our recent strategic plan, enacted in 2019, reflects a deep desire to join forces and collaborate with other entities whenever possible – to amplify the voice of the business community, broaden the workforce talent pool, and build the Charlottesville brand. As we look to the future, we actively seek new faces and voices to work together towards the strongest, most vital business community possible.