John F. Bell Sr. Vanguard Award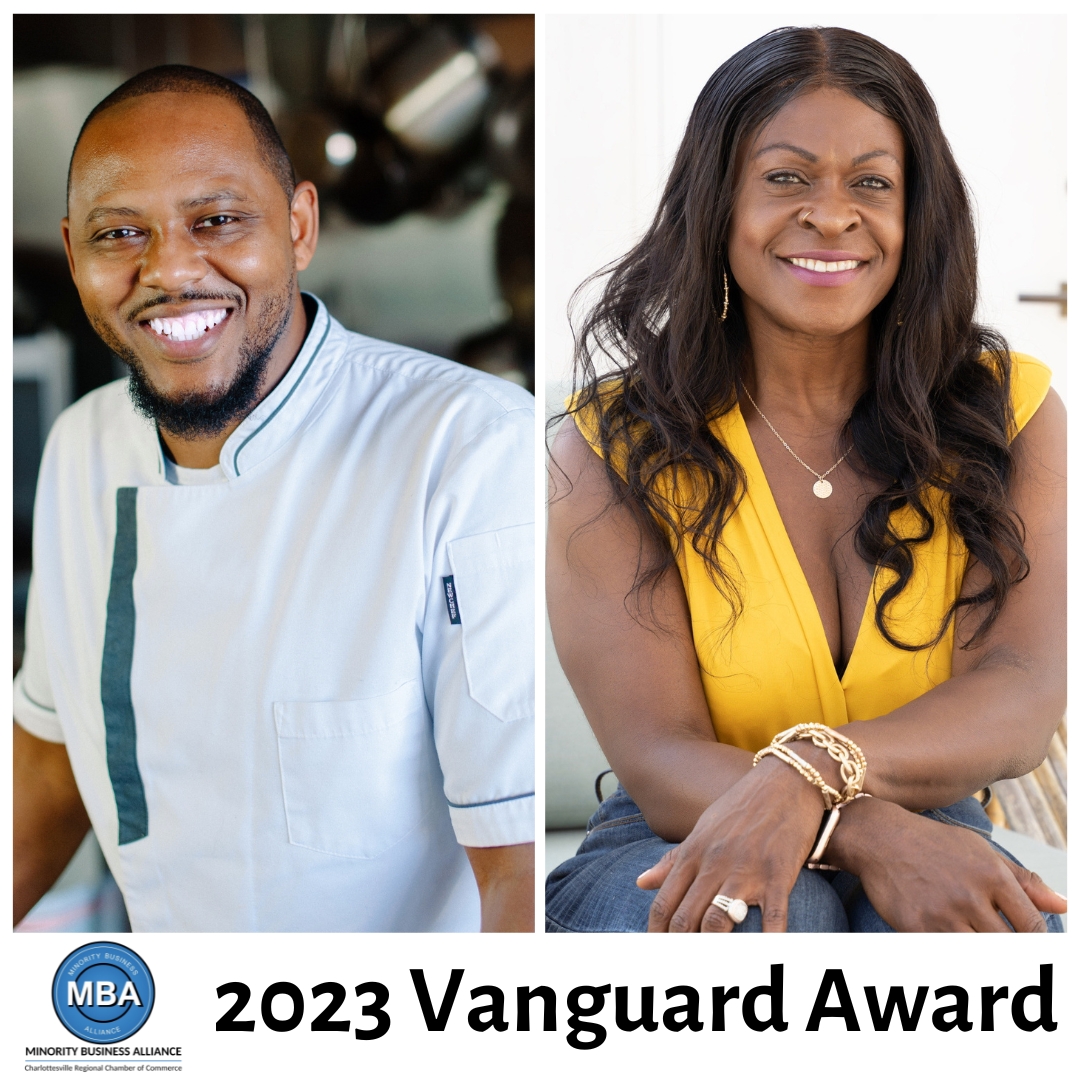 2023 John F. Bell Sr. Vanguard Award: Antwon Brinson, Culinary Concepts AB, and Sabrina Feggans, Beyond Fitness with Sabrina
This award recognizes an outstanding minority business person or individual who promotes diversity, equity and inclusion within the business community in our Greater Charlottesville area.
Award criteria:
displays high business and personal integrity
is located within the Greater Charlottesville area
makes significant contributions in the area of business diversity
understands the importance of community service and is civically engaged
mentors others to develop business leaders who will contribute to diversity in business
Business Women's Round Table (BWRT) Excellence Award
2023 BWRT Excellence Award: Nicole Hawker, Heart and Soul Fitness with Nicole
The recipient of the BWRT Excellence Award is an extraordinary woman in the greater Charlottesville Region who has manifested a legacy that continues to inspire others. She has dedicated her life to the advancement of others and paved the way for the leaders of tomorrow. The winning nominee develops future leaders, mentors peers, helps shape our community and gives back in ways that impact all who know her and are touched by her efforts. The nominee should have a track record of long-term achievements, community involvement, and professional growth. The recipient of this award will be a professional woman who is known for her positive influence, competent abilities, adaptability and demonstrated leadership skills.
Mentor of Excellence Award
2023 Mentor of Excellence Award: Jessica A. Harris, Jessica A. Harris LLC
The Mentor of Excellence award recognizes a greater Charlottesville Region woman who has a powerful commitment to advising other women and helping them advance. This award is open to any woman at any level of their organization. The winning nominee will be someone who has inspired, empowered, or supported another, either man or woman, inside or outside of their business/organization in a significant way. Their influence will have had a notable impact on those whom they have supported personally, professionally, or in their business. The judges will be looking for evidence of where what, when, and how they have implemented this mentorship.
Rising Professional Award
2023 Emerging Professional Award: Nadirah Muhammad, Story House Real Estate
The Emerging Professional Award recognizes an up-and-coming professional woman in the greater Charlottesville Region community who makes an impact through her personal involvement in business, community projects, and volunteering while exhibiting exceptional talent as a future business leader. She is an exemplary role model breaking barriers and traditional silos with proven leadership success. She is a young woman of influence, and inspiration in the community. Emphasis is placed on recent accomplishments, promotions and/or demonstration of leadership and community service.
Chamber Business Leader of the Year Award
2022 Business Leader of the Year: Kara Chandeysson, Ting
This award recognizes outstanding citizen contributions to our Greater Charlottesville communities.
Award criteria:
Has given of his or her time freely to community and civic affairs
Has contributed significantly to the direction and success of our Greater Charlottesville region through sound business or professional practice
Has inspired others through his or her actions
Lives or lived in the Greater Charlottesville region
2022 Upstanding Award: Van der Linde Recycling
This award recognizes a business or organization that successfully demonstrates one or more best practices in responsible business, as defined by the US Business Roundtable in 2019 as follows: We will deliver value to our customers; invest in our employees; deal fairly and ethically with our suppliers; support the communities in which we work; and generate long-term value for our shareholders.
Award criteria:
Is a member organization of any size in good standing with the Charlottesville Regional Chamber of Commerce
Excels in disciplines such as corporate social responsibility, sustainability practices, DEI initiatives, volunteerism and/or other forward-looking approaches to achieving business success
Christopher Lee Small Business Person of the Year Award
2022 Christopher Lee Small Business Person of the Year: Eddie Karoliussen, Four Corners Real Estate Solutions
This award recognizes an outstanding business owner who has made a significant contribution to the success of their business and our Greater Charlottesville communities.
Award criteria:
Is an active owner or co-owner of a Charlottesville area business with 50 or fewer employees
Is a member in good standing of the Charlottesville Regional Chamber of Commerce
Has been in business for three years or longer