Become a Partner in Trust
Partners in Trust are the cornerstone of our success. Your contribution fosters a vibrant, diverse, and forward-looking business community. ​This partnership means you're ready to step into a larger role of influence not only in our greater Charlottesville communities, but in the broader region and nationally.
​For your generous commitment and investment in our community you'll receive: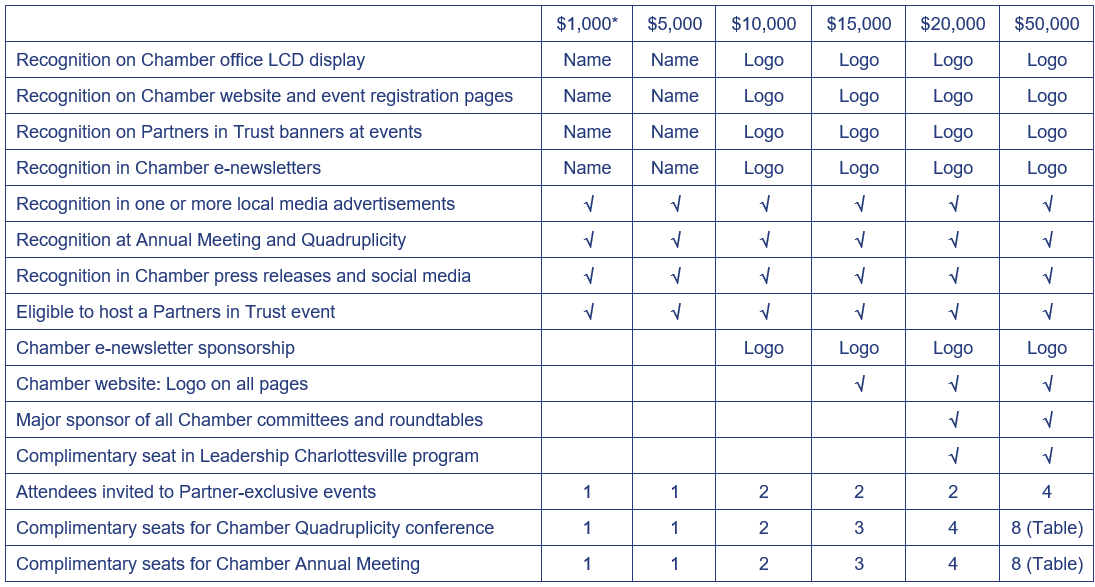 We strive to customize the program to best fit within your organization's goals and will work with your team to maximize the value of the partnership. Partners will help the Chamber determine future benefits based on your feedback about return on investment. We look forward to collaborating and enhancing the program to best fit the needs of our community.
* $1,000 level is reserved for companies with fewer than ten employees. This exceptional rate ensures that small businesses will be well represented in the program. Of course, small businesses are welcome to participate at a higher level if preferred.
To discuss partnership possibilities and benefits, please contact:
Charlottesville Regional Chamber of Commerce
President & CEO Elizabeth Cromwell
elizabeth.cromwell@cvillechamber.com | 434.295.4031