Become a Partner in Trust
Partners in Trust are the cornerstone of our success. Your contribution fosters a vibrant, diverse, and forward-looking business community. ​This partnership means you're ready to step into a larger role of influence not only in our greater Charlottesville communities, but in the broader region and nationally.
2023 Partners in Trust Proposal
To discuss partnership possibilities and benefits, please contact:
Charlottesville Regional Chamber of Commerce
President & CEO Natalie Masri
natalie.masri@cvillechamber.com  | 434.295.4031
We strive to customize the program to best fit within your organization's goals and will work with your team to maximize the value of the partnership. Partners will help the Chamber determine future benefits based on your feedback about return on investment. We look forward to collaborating and enhancing the program to best fit the needs of our community.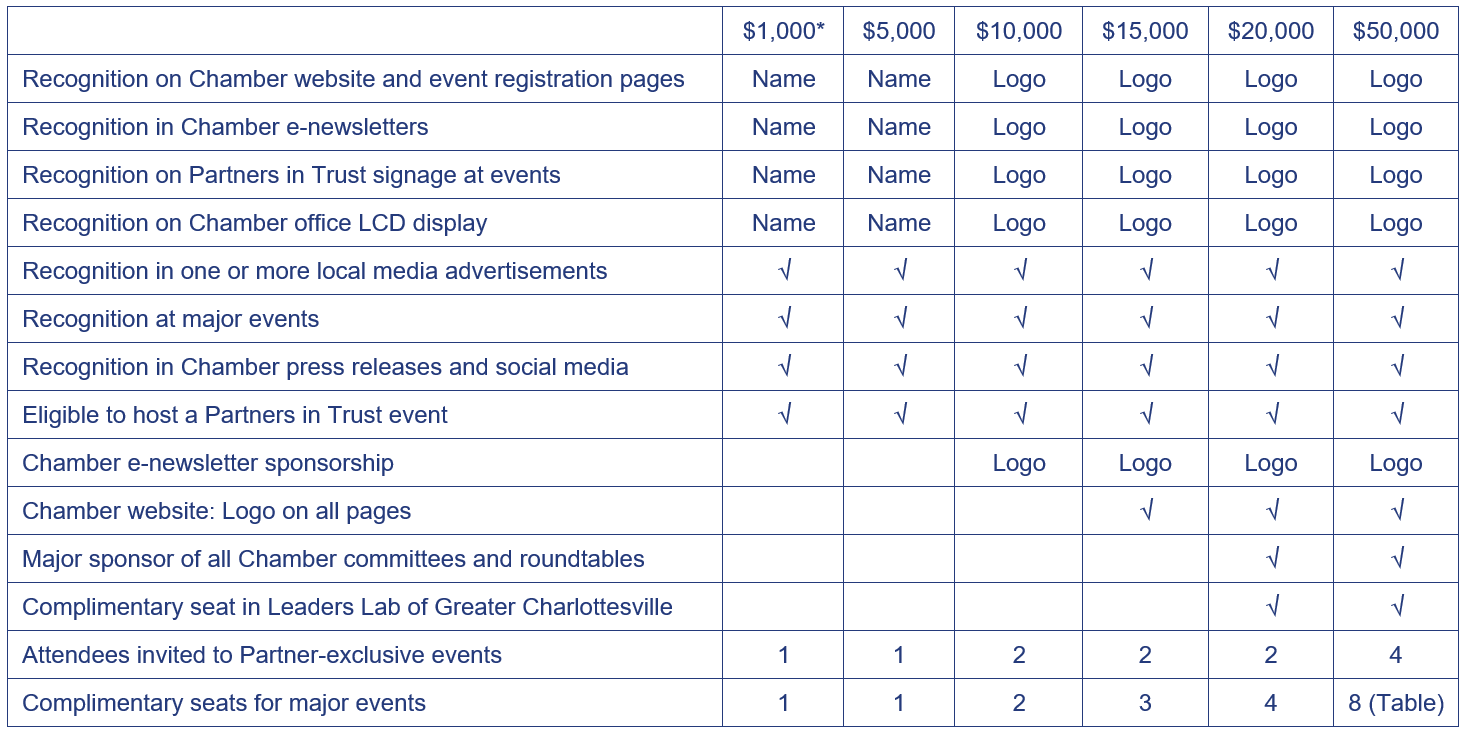 *    $1,000 level is reserved for companies with ten or fewer employees. This exceptional rate ensures that small businesses will be well represented in the program. Of course, small businesses are welcome to participate at a higher level if preferred.
Chamber President's Conversation
Candid insights, goal sharing and collaborative discussion about the Charlottesville region from our Partners in Trust.
Tour of Recent Development and Reception
Join us for a walk-through of one of the area's newest iconic locations, followed by refreshments.
Partners Appreciation Reception
We are fostering collaboration at the executive level. Join fellow Partners in Trust, Chamber Board members, and select community partners for an evening of networking.
Economic Outlook Crystal Ball from the Richmond Fed
Networking reception and brief economic forecast from the Federal Reserve of Richmond
The Charlottesville Regional Chamber of Commerce is building partnerships, relationships and collaboration thanks to the support of our Partners in Trust. With your help, we are becoming a stronger convener and advocate for the business community.
Vision: A thriving regional economy
Mission: We advocate, convene and engage to strengthen business in the region
Strategic Priorities:
Building a best-in-class chamber
Advocacy/public policy in support of the business community
Supporting economic development and building business success
Economic Development: Partnered with the City of Charlottesville, Albemarle County and UVA to launch and support Venture Central
Leadership: Building on a successful pilot, welcomed 35 local leaders into the second cohort of the Leaders Lab of Greater Charlottesville, with programming developed by the Center for Nonprofit Excellence, Weldon Cooper Center for Public Service, and UVA Institute for Engagement & Negotiation.
Advocacy: Endorsed five focus areas for public policy engagement. Hosted a second successful State of the Community event featuring 18 panelists and more than 200 attendees. Introduced Eggs & Issues Legislative Breakfast to discuss key policy issues facing business.
Equity: Expanded Board-level Equity Advisory Committee to advance long-term equity work across all Chamber programs.
Defense Affairs: Defense Affairs Committee commissioned landmark economic impact study by the Weldon Cooper Center, indicating the defense sector is our region's second-largest economic generator with an annual impact over $1.2 billion.
Minority Business: In partnership with the United Way of Greater Charlottesville, the Chamber Minority Business Alliance has awarded more than $135,000 in grants to 27 Minority Business Enterprises since 2020.
Professional Development: Launching Future of Talent series in partnership with the City of Charlottesville Office of Economic Development, educating employers in new best practices for hiring and retention.
Recognitions: Expanded signature Chamber awards to include the Upstanding Award for socially responsible business as well as BWRT Women of Excellence Awards. Recognized Business Leader of the Year, Christopher Lee Small Business Person of the Year and John F. Bell Sr. Vanguard Award.
Reputation & Visibility: Established partnerships to feature Chamber members & staff weekly on local TV and radio.