Become a Partner in Trust
Partners in Trust are the cornerstone of our success. Your contribution fosters a vibrant, diverse, and forward-looking business community. ​This partnership means you're ready to step into a larger role of influence not only in our greater Charlottesville communities, but in the broader region and nationally.
2021 Partners in Trust Proposal
To discuss partnership possibilities and benefits, please contact:
Charlottesville Regional Chamber of Commerce
President & CEO Elizabeth Cromwell
elizabeth.cromwell@cvillechamber.com | 434.295.4031
We strive to customize the program to best fit within your organization's goals and will work with your team to maximize the value of the partnership. Partners will help the Chamber determine future benefits based on your feedback about return on investment. We look forward to collaborating and enhancing the program to best fit the needs of our community.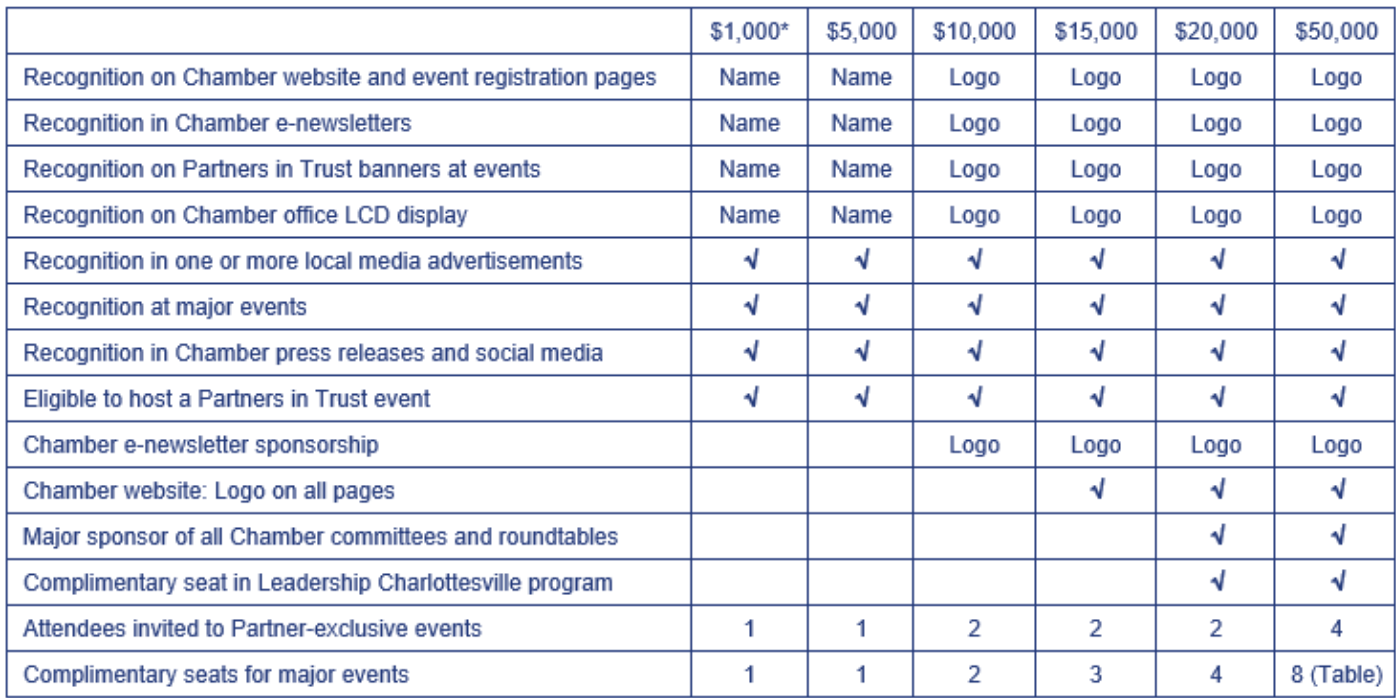 *    $1,000 level is reserved for companies with ten or fewer employees. This exceptional rate ensures that small businesses will be well represented in the program. Of course, small businesses are welcome to participate at a higher level if preferred.
Hard Hat Tours of CODE Building
February 24-25
Preview the iconic downtown building's unique spaces and planned amenities, under construction by Hourigan. See photos
Economic Outlook from the Richmond Fed
October 18 at Boar's Head Resort
Networking reception and brief economic forecast with Renee Haltom of the Federal Reserve of Richmond
Tour of Woolen Mills and Reception
Date TBD
Join us for a walk-through of this stunning project, followed by refreshments. In partnership with Willlowtree
Partners Happy Hour and Guest Speaker TBD
Date TBD
We are fostering collaboration at the executive level with our collaborating partners.
* NEW * Chamber President's Roundtable Luncheon
Date TBD
Candid insights, goal sharing and collaborative discussion about the Charlottesville region from our Partners in Trust.
Partners Appreciation Reception
Date TBD
Each partner is invited to bring up to five top clients or prospects to this partner recognition event. Let us sing your praises to the perfect audience!
2021 programs are tentative and may be in person or virtual, pending progress related to COVID-19.
The Charlottesville Regional Chamber of Commerce is building partnerships, relationships and collaboration thanks to the support of our Partners in Trust. With your help, we are becoming a stronger convener and advocate for the business community.
Vision: A thriving regional economy
Mission: We advocate, convene and engage to strengthen business in the region
Strategic Priorities:
Building a best-in-class chamber
Advocacy/public policy in support of the business community
Supporting economic development and building business success
Equity Advisory Council: Enacted a new Board of Directors standing committee
Venture Central: Partnered with the City of Charlottesville, Albemarle County and UVA to help make this entrepreneurial ecosystem a reality in 2021
Defense Affairs: Hired this new position for a 2-year pilot project in partnership with Albemarle County, City of Charlottesville, Greene County, UVA and private partners.
Roundtables: Launched the Rising Professionals roundtable (under age 40); revamped others such as the Minority Business Alliance
Grants Program: Launched in partnership with Minority Business Alliance and the United Way
Training Programs: Launched ProTip Tuesdays in partnership with Central VA SBDC
CBIC Partnership: Created and co-hosted the Partnership of the Year Award at CBIC's gala
Member Programs: Launched Chamber member referral incentive program and Member Mondays to support small businesses
Project Rebound:
Developed initiative in partnership with the City of Charlottesville, Albemarle County and UVA Offices of Economic Development
Convened more than 300 business people to collect business concerns and data
Became the first Chamber to receive a GO Virginia grant and commissioned KPMG to analyze data and produce the Project Rebound Report
Received the Facilitation Impact Award from the International Association of Facilitators for the Project Rebound Zoom sessions
Produced and distributed free Project Rebound toolkits containing face masks, reopening checklists, sanitizer and branded safety signage for small businesses
Employer Training: Partnered with PVCC to pivot employer training toward new business needs such as videoconferencing
Training Videos: Featured Chamber members in a series of professionally produced public service announcements demonstrating best practices to re-open business
Member Support: Weekly news and resource roundups; press releases promoting members; shop local campaign
Advocacy: Hosted guest speakers including Governor Northam, US Senators Kaine and Warner, Federal Reserve executives, etc. to share concerns and ideas