Become a Partner in Trust
Partners in Trust are the cornerstone of our success. Your contribution fosters a vibrant, diverse, and forward-looking business community. ​This partnership means you're ready to step into a larger role of influence not only in our greater Charlottesville communities, but in the broader region and nationally.
2023 Partners in Trust Proposal
To discuss partnership possibilities and benefits, please contact:
Charlottesville Regional Chamber of Commerce
President & CEO Natalie Masri
natalie.masri@cvillechamber.com  | 434.295.4031
We strive to customize the program to best fit within your organization's goals and will work with your team to maximize the value of the partnership. Partners will help the Chamber determine future benefits based on your feedback about return on investment. We look forward to collaborating and enhancing the program to best fit the needs of our community.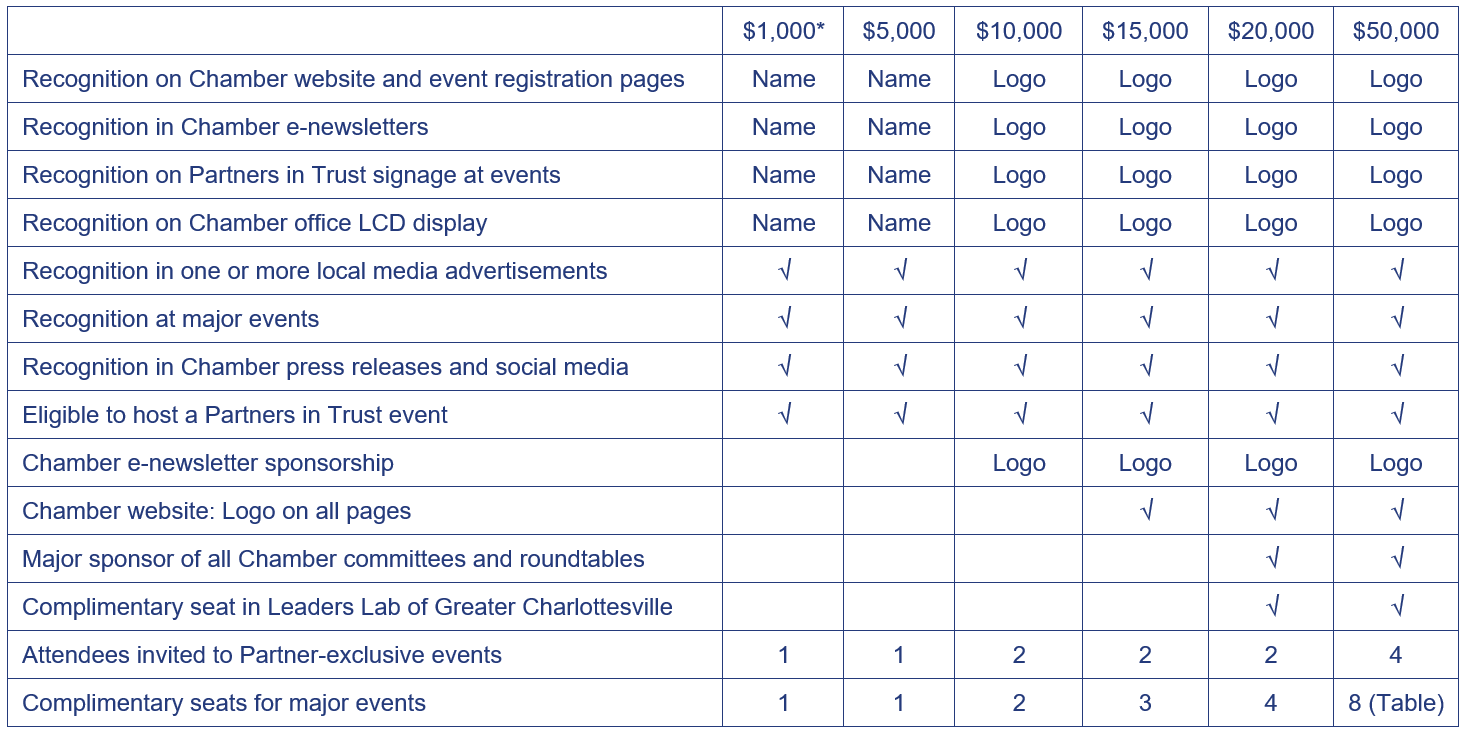 *    $1,000 level is reserved for companies with ten or fewer employees. This exceptional rate ensures that small businesses will be well represented in the program. Of course, small businesses are welcome to participate at a higher level if preferred.
Chamber President's Roundtable Luncheon
Candid insights, goal sharing and collaborative discussion about the Charlottesville region from our Partners in Trust.
Tour of Recent Development and Reception
Join us for a walk-through of one of the area's newest iconic locations, followed by refreshments.
Partners Happy Hour and Guest Speaker TBD
We are fostering collaboration at the executive level with our collaborating partners.
Partners Appreciation Reception
Each partner is invited to bring up to five top clients or prospects to this partner recognition event. Let us sing your praises to the perfect audience!
Economic Outlook from the Richmond Fed
Networking reception and brief economic forecast with the Federal Reserve of Richmond
The Charlottesville Regional Chamber of Commerce is building partnerships, relationships and collaboration thanks to the support of our Partners in Trust. With your help, we are becoming a stronger convener and advocate for the business community.
Vision: A thriving regional economy
Mission: We advocate, convene and engage to strengthen business in the region
Strategic Priorities:
Building a best-in-class chamber
Advocacy/public policy in support of the business community
Supporting economic development and building business success
Economic Development: Partnered with the City of Charlottesville, Albemarle County and UVA to establish nonprofit status for Venture Central, form a Board of Directors and develop bylaws, secure funding from GO Virginia, and hire Entrepreneurial Ecosystem Builder Alex Andrew
Leadership: Partnered with the Center for Nonprofit Excellence, Weldon Cooper Center for Public Service, and UVA Institute for Engagement & Negotiation to significantly expand the curriculum of Leadership Charlottesville for program re-launch in 2022
Advocacy: Revamped Public Policy Committee and recruited new steering committee to focus on building relationships with elected officials and decision makers
Equity: Board-level Equity Advisory Committee established benchmarks and logic model for long-term equity work across all Chamber programs
Defense Affairs: Defense Affairs Committee produced welcome document for incoming military/defense personnel and held first annual Service Awards Luncheon.
Minority Business: Minority Business Alliance awarded over $70,000 in grants to minority-owned businesses in partnership with the United Way of Greater Charlottesville.
Hospitality & Tourism: Launched Hospitality Professionals Round Table to provide support, advocacy, education and recognition for professionals working in hotels, restaurants, wineries and breweries, weddings and special events, tourism, and similar fields.
Reputation & Visibility: Chamber members & staff featured more than 40 times through partnerships with local print, radio and television outlets; Chamber earned more than 30 additional mentions in regional media
Chamber Building: Remodeled downstairs lobby at 209 5th St. NE into a bright, modern gathering space