Leaders Lab of Greater Charlottesville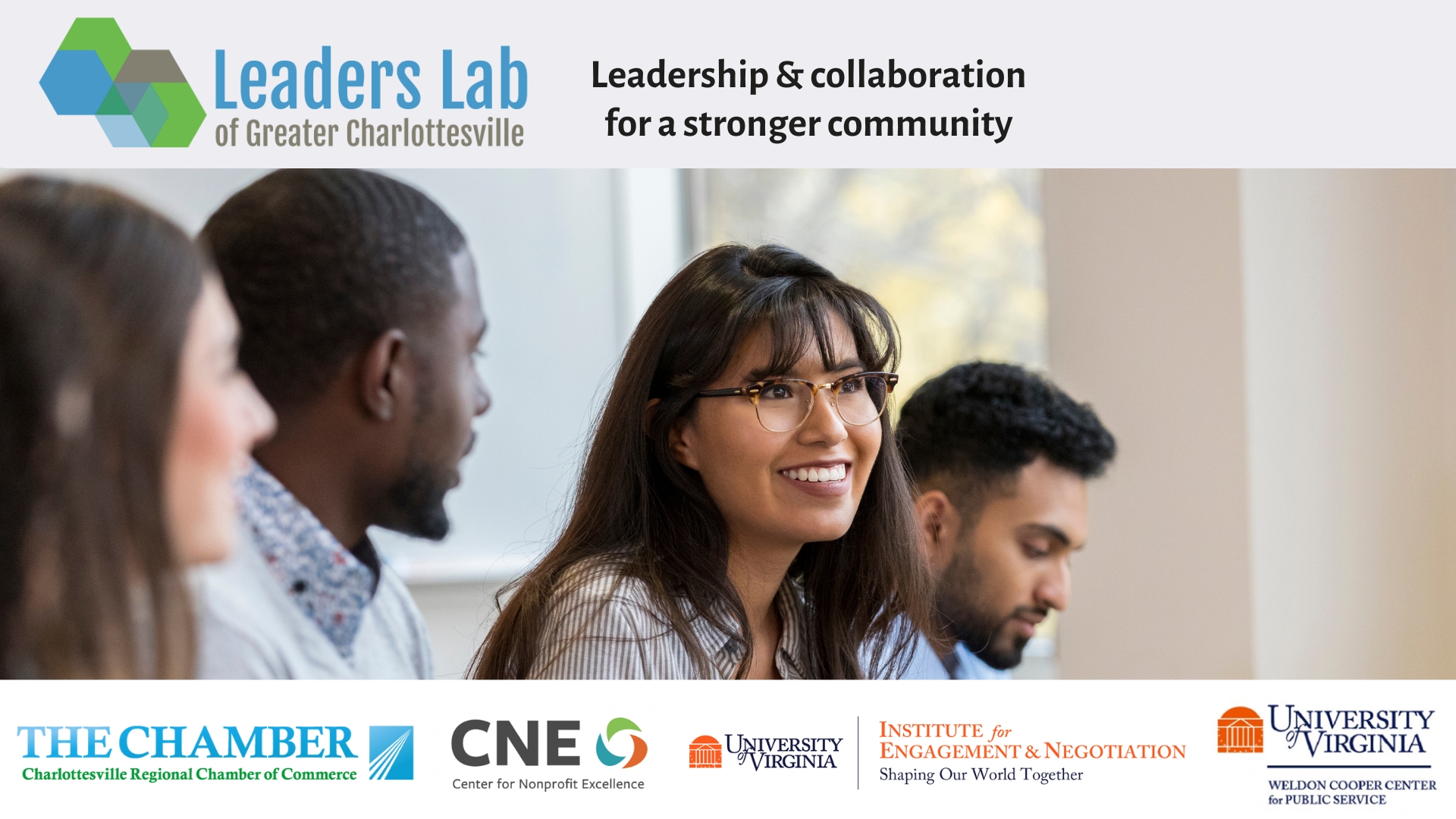 Exceptional skills-building and deep collaboration for a stronger community
The Leaders Lab of Greater Charlottesville is a 9-month program for current and emerging leaders to build leadership skills and practice collaborative community problem-solving.
Members of the Leaders Lab Class of 2024 will be announced publicly in early September!
Primary program elements:
Leadership Development – Assessing and building competencies in self-awareness, conflict management, collaboration, cultural competence and adaptability
Community Knowledge-Building – Community case studies on local work in areas such as homelessness, food and health access, racial equity, education and entrepreneurship
Community Problem-Solving – Studying and practicing leadership skills such as equitable collaboration, consensus building, ethical decision making, community engagement, group facilitation, principled negotiation, conflict resolution and asset based community development
Leaders Lab participants will:
✓ Apply learning to complete their individual leadership plans
✓ Develop perspective and understanding of at least seven community issues
✓ Demonstrate understanding of community problem-solving and skills development through practice
✓ Access a new network of community-minded leaders that supports individual growth/development AND collaborative action towards a more broadly thriving community.
The Leaders Lab cohort values:
✓ Diversity of community knowledge, experience & expertise
✓ A collaborative mindset to improve the practice of leadership in our community
✓ Humility and deep listening skills
✓ A spirit of excellence with a strong work ethic to leverage assets to address community challenges
Frequently Asked Questions
Who should apply for Leaders Lab?
Everyone has an opportunity to lead in some form – in our personal lives, on the job and in our community. We encourage you to apply if you live in the Greater Charlottesville area and want to deepen your leadership skills, practice collaborative problem solving, and put new skills to work immediately to build a stronger community.
In order to offer the broadest possible perspective and richest participant experience, Leaders Lab plans to enroll a cohort that reflects our entire community in terms of geography, industry, race, gender, age and more.
What will I gain by participating in Leaders Lab?
As a program participant, you'll learn best practices in conflict resolution, multi-party negotiations, cultural competence, meeting facilitation, and many more skills. You'll create a leadership development dashboard to track your personal progress.
You will also have a chance to build relationships with other motivated leaders and emerging leaders. Program graduates become part of a "network of doers" in our region, with ongoing collaboration encouraged.
What will the sessions be like?
Leaders Lab meets for one full day each month of the 9-month program. Each session includes elements of leadership development, community knowledge-building, and community problem-solving. We will hear from local experts and engage directly with local issues. Be prepared to think, discuss, and learn a lot! Lunch will be provided during each session.
How much does it cost?
Program tuition is $2,900.
What if I can't afford the tuition?
First, check with your employer. Many employers are willing to cover all or part of the tuition through employee continuing education/training programs, or discretionary spending. Click here for a printable one-page program summary you can share.
If your tuition is not fully funded by your employer and you are unable to shoulder the full tuition on your own, PLEASE APPLY ANYWAY!
Leaders Lab is committed to providing a sliding scale for all selected applicants who cannot pay the full tuition. Applicants will be selected without regard to ability to pay. We will work with individuals to determine the appropriate tuition amount based on need.
When does the program start, and how long does it last?
Sessions take place 8:30am to 3:30pm on the second Friday of each month, September through May. Session dates for 2023-24 are: September 8, October 13, November 10, December 8, January 12, February 9, March 8, April 12, May 10.
What if I can't attend every month?
If you don't expect to be available for all of the sessions, we encourage you to consider applying next year instead. Participants who miss more than one session for non-emergency reasons will not receive a certificate of completion for the program. These individuals may complete the program by attending their missed sessions with the next cohort the following year.
Where will the program take place?
Leaders Lab sessions will be held at a variety of locations in the Charlottesville region.
Will transportation be provided?
Participants will need their own transportation to and from the sessions. If you do not have transportation, please let us know so that we can explore solutions.
Will there be a virtual option for this program?
All Leaders Lab sessions will take place in person only.
Are there any additional costs or fees?
The program tuition is all-inclusive. There will not be any additional costs to participate.
Can Leaders Lab provide documentation of my participation to my supervisor?
Absolutely! Please let us know what kind of documentation is required, and we will be happy to provide it.
Can I earn professional development credits?
This depends on the accreditation program for which you wish to earn credits. Check with your program administrator about the requirements for earning credit, and we will gladly provide appropriate documentation.
I'm a Leadership Charlottesville graduate. Can I participate in Leaders Lab?
Yes, Leadership Charlottesville graduates are encouraged to apply! Leaders Lab builds on the popular community engagement curriculum of Leadership Charlottesville. The new elements of focused leadership skills development will benefit anyone who previously participated in LC.
How will applicants be selected for the cohort?
A selection team will carefully review applications. We will craft the cohort based on individual excellence and enthusiasm as well as overall diversity in terms of geography, industry, race, gender, age and more.
When will I find out if I'm selected?
Dates for the 2024-25 application cycle will be announced in spring 2024.
How do I apply?
Applications for the 2023-24 cohort closed on July 12, 2023. Online applications for 2024-25 will open in spring 2024. Now is a great time to talk with your employer about this professional development opportunity.