Welcome to the Charlottesville Regional Chamber of Commerce
We are the area's broadest, most diverse network of business, nonprofit and civic organizations. Join us to build your business and our community.
COVID-19 Business Updates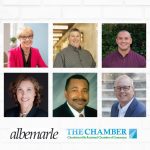 Chamber President & CEO Elizabeth Cromwell shares insights from our members in the June/July issue of albemarle magazine.