Chamber Spotlight: Cass Kawecki, Colliers International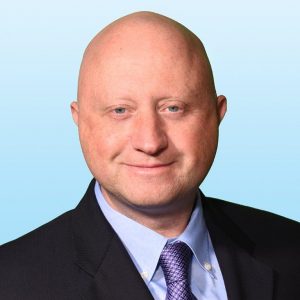 What was your first job?
My first job (during high school) was bagging groceries for a grocery store in Bethesda, Maryland. With no training provided it was a frying pan to the fire experience, and initially I seemed to have a real knack for offending customers with my choices of which items to pack together. Fortunately, I soon discovered that by simply asking customers how they wanted their groceries packed first, they became delighted with my service!
What is unique about your organization and the work you do in our community?
The most unique part of my work as a commercial real estate broker is getting to know so many of the great companies and non-profit organizations that comprise the Charlottesville business community. I leverage my vast experience, along with the backing of the Colliers International platform, to help my clients with their real estate needs. I specialize in investment property sales and office occupier representation, which often includes helping companies secure the right space at the most favorable terms. This is one of the largest and most impactful transactions that many organizations face – with considerable financial, operational, and human factors at stake.
What sort of outcomes have you helped your clients achieve?
Simply put, I have saved my clients millions of dollars in direct occupancy costs, while paving the way for organizational improvements and growth. The search for the right location can be a defining moment for many organizations - as so much of the identity, culture and aspirations of an entity are connected to the physical location and quality of the space. How an organization interacts with their clientele, and with neighboring businesses and organizations, can further define success and contribute to our culture and community at large. It is quite rewarding to be a part of this process.
How did you choose the field you're in?
After getting Master's degrees in Architecture (UVA) and Business (Carnegie Mellon), combining creativity and economic thinking, commercial real estate was a natural career path.
Why did you choose the Charlottesville area?
Originally for sustainable architecture and UVA in the mid-90's. Since then, many close family members have relocated here, many old UVA friends stayed or moved back here, and my wife Barbara and I decided to settle and start our family here. What started as a great and exciting place to study, now feels like my hometown.
Who are you grateful to, and why?
I am grateful for my wife, and for my parents for giving me the space to discover what I was interested in, and then fully supporting my pursuits. I am also grateful for my two children, age 5 and age 10, and aspire to do the same for them!