Chamber Spotlight: Kelli Palmer & Mike Murphy, Corporate Citizenship at CFA Institute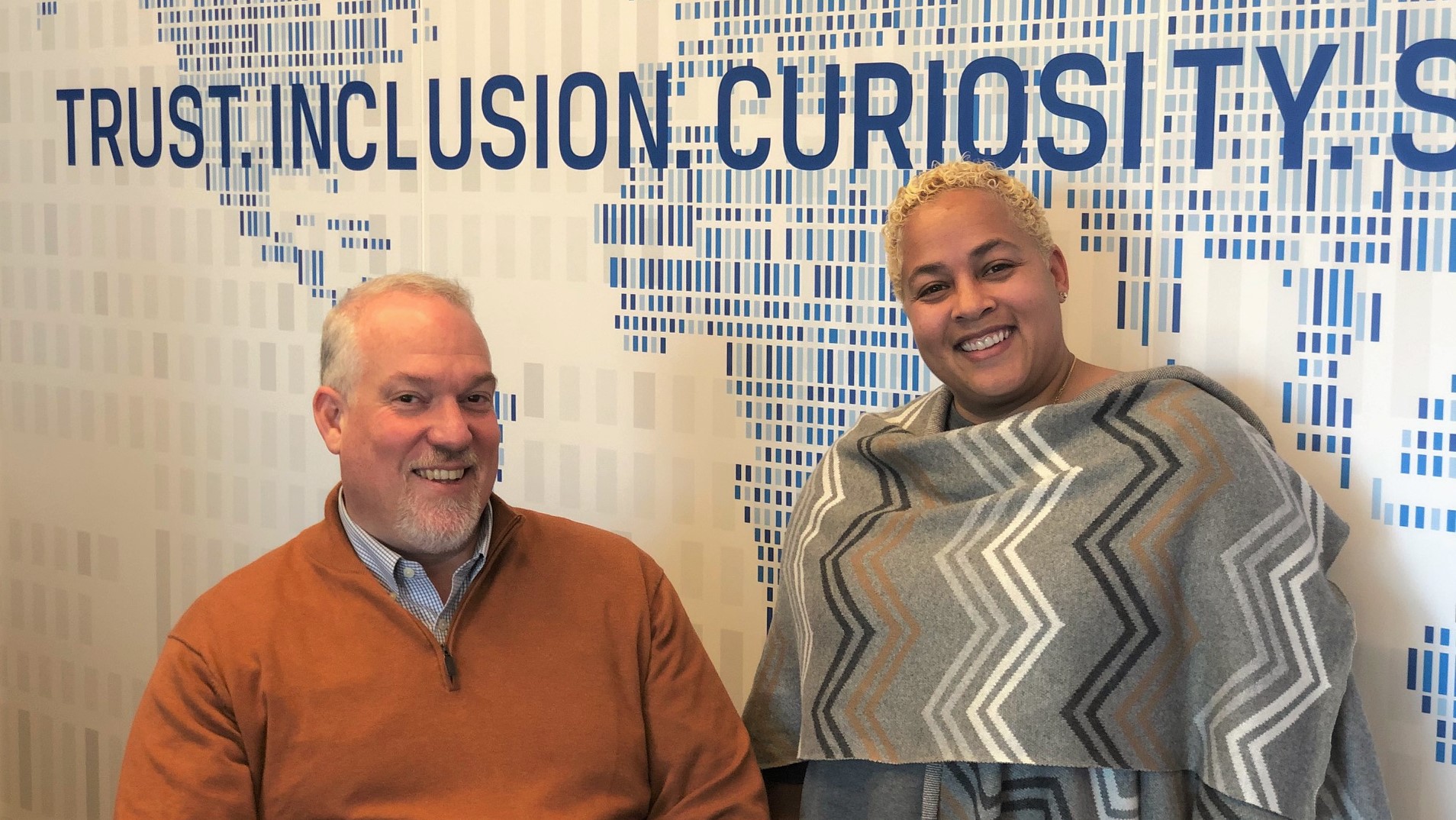 Chances are, you've seen the CFA Institute logo around town. Was it at Charlottesville High School? The Virginia Festival of the Book? Or maybe at a Chamber event?
Kelli Palmer says it all started with the United Way Day of Caring. Getting CFA Institute employees out into the community helped catalyze a corporate citizenship practice that is quickly growing its reach and impact.
The global CFA Institute is poised to make new strides in inclusion & diversity, while continuing to build on long-term community partnerships and successful sustainability initiatives.
"There's momentum in investment management around inclusion & diversity," Kelly said. "As we look to support the markets and professionals that we serve, we're also looking at our own practices internally. You have to start by eating your own soup."
Six years ago, the CFA Institute moved into the former Martha Jefferson Hospital. The new, more central location – and the sense of becoming "homeowners" for the first time – inspired new focus on participating in community life.
Just like a prudent investor, CFA Institute focuses on meaningful sponsorships with sustained impact. Strategic local partnerships must align with business priorities like investment management, inclusion and diversity, and environmental sustainability.
"We make multi-year, significant resource commitments," Kelli said. "And not just monetary; we bring employee energy and intention to the table as well as content expertise."
One of her favorite examples is an innovative partnership with Habitat for Humanity to purchase locally sourced carbon offsets. CFA Institute provided resources for energy-efficient construction in a neighborhood built by Habitat, tying together multiple goals: long-term impact, plus financial value and access to sustainability for an underserved community in CFA Institute's hometown.
Helping the community flourish is a goal in itself, and it aligns with the CFA Institute mission: "To lead the investment profession globally … for the ultimate benefit of society."
But what does a global organization get back from investing in the local community? A lot, as it turns out.
Building employee loyalty tops the list. Employees who have multiple connection points locally are more likely to stick with the community and the organization. And the more Charlottesville thrives, the better a large employer like CFA Institute can attract talented employees to the area.
Community engagement has a measurable brand impact, too. From almost zero local name recognition less than a decade ago, CFA Institute has achieved broad community awareness. Enthusiastic employees have become brand ambassadors, magnifying the reach of online impressions, views and shares.
Personal growth for employees – connecting to the community, engaging with others who have different life experiences – is another win-win. Employees feel more fulfilled, while building skills as well.
Take a walk through the CFA Institute offices, and you'll see top-to-bottom investments in sustainability – a rooftop solar array, energy-efficient lighting and equipment, a graywater system to reduce water use – even locally sourced microfarm greens growing in the café.
Yet with all of this built in, there's still room for growth. As a formal program, corporate citizenship at CFA Institute is relatively young. Kelli pointed out that other large employers locally, like UVA and State Farm, have been trailblazers in this area. But she said her team is "being aggressive in this space at this time."
"We feel good about the energy and attention that we and our organization are committing top down, bottom up, out in," she said. "We're working on this at our highest levels."
The past year has seen several leaps forward. CFA Institute became a signatory to the UN Global Compact, codifying its commitments to sustainable development goals.
The organization added inclusion & diversity to its corporate citizenship practice in 2019, committing permanent staff resources to build on several years of "crowdsourced" work within the organization. Mike Murphy joined the team in December, bringing his decades of experience in community engagement.
Kelli and Mike have big plans for 2020, and they shared a snapshot of what's next.
Inclusion & diversity: UVA Professor Brian Nosek will lead implicit bias training for CFA Institute employees. Mike said the goal is "to move beyond the awareness level – to having people build skills and really challenge ourselves to be in relationship, have difficult conversations – all towards the end of being great teams and a great place to work for everyone."
A global book club launches in February. Employees will read and discuss the book Overcoming Bias, by Tiffany Jana and Matthew Freeman of Richmond-based TMI Consulting.
Global reach: Replicating local successes at CFA Institute locations around the world, like Hong Kong, Mumbai, and Shanghai, is an ongoing project. Always mindful of sustainability, global employees will reduce travel impact by sharing many ideas virtually.
New affinity group: A new global affinity group focused on disability is in the exploration stages. Existing groups include Pride at Work, Women's Initiatives Network (WIN), and Institutional Awareness of Minorities (IAM).
Quantifying sustainability impact: The team will work on assessing the long-term impact of CFA Institute's green headquarters.
Moving into the future, Kelli hopes for even more community engagements, like the Habitat partnership, that bring together multiple goals.
"In our perfect world, we work at that nucleus," she said. "We're part of an organization that has empowered us and challenged us – for the ultimate benefit of society."
We thank CFA Institute for supporting the Chamber through our Partners in Trust program.