Chamber Spotlight: Bunmi Adeeko Collins, StickyNote Creative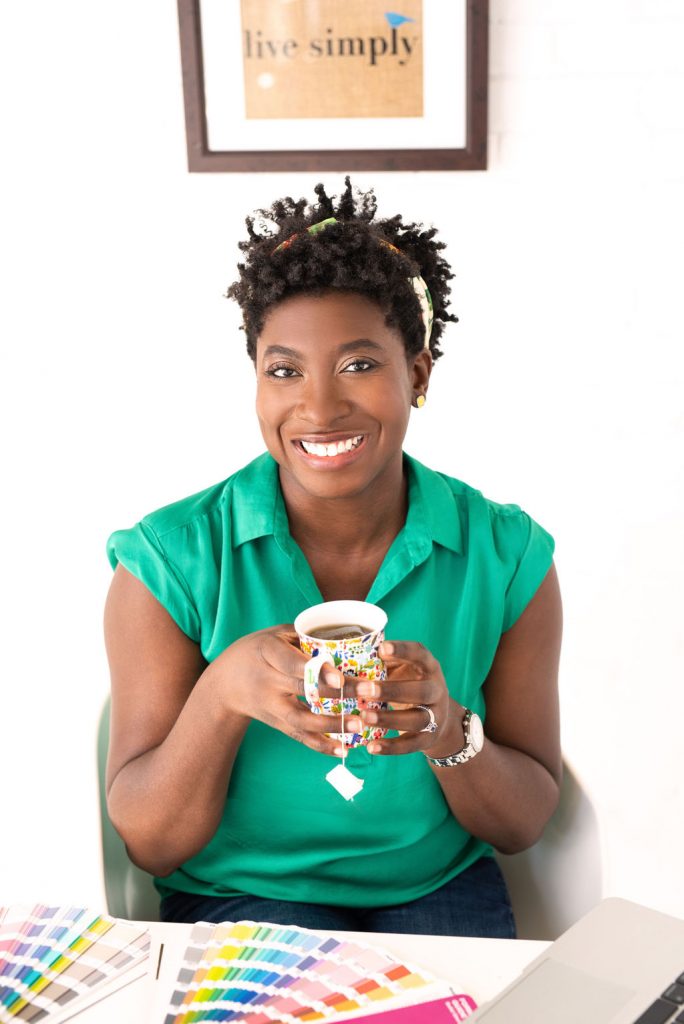 What does your organization do?
StickyNote Creative is a human-centered graphic design firm focusing on businesses and organizations who want to create authentic brands and memorable designs for marketing, branding and communications collateral of various scope and complexities.
What was your first job?
My very first job post-college holds a special place in my heart, because after college I decided to join AmeriCorps and commit to a year of service as a VISTA (Volunteers in Service to America) member. As someone who had grown up serving my community in various ways, but even more so, recognized that I had had so many blessings bestowed onto me, I felt it was only right to somehow find a way to utilize my education and serve the community supporting causes that I had a passion for.
With that desire, I applied for a Marketing Associate position with a nonprofit organization in Boston, Generations Incorporated (GI), which was a literacy organization pairing older adult literacy coaches with young elementary aged children to help close the opportunity gaps to ensure all students have the resources to become literacy proficient. I left my hot south Texas home for the first time and moved halfway across the country to the cold winters of Boston (and yes, those beautiful falls).
My year at GI was amazing and such a valuable learning experience for me both professionally and personally – I grew a lot as a person. Additionally, new doors were opened for me as a budding freelancer on the side, as I was given the opportunity to start designing wedding and event invitations. I stayed in Boston for two more years before moving back to Texas.
How did you choose the field you're in?
My love affair with the print design world began in junior year of high school in chemistry class of all places! After creating a brochure to complement a molecular model I had to build, I was left wondering what career would allow me to have that kind of fun for a living. That summer, by happenstance I met my first graphic designer, avidly studied her portfolio and knew I had found my calling. Fast forward to present day and my enthrallment with all things design has yet to waver.
What is unique about your organization and the work you do in our community?
Most of my career has been working within organization's marketing departments as an in-house designer/marketer. This experience, in combination with my formal education in design and design thinking has influenced my approach to projects. I have the skill to create on-brand marketing collateral for businesses and organizations of all sizes, and at the same time, over the years have begun to carve out a niche for brand development for individuals, startups and small businesses.
My understanding of design, branding and marketing fundamentals provides businesses that hire me with a professional who wants to assist them in building a strong foundation for their visual brand. Branding is more than simply a logo and my goal is to help businesses understand that investing in their visual brand early on reaps great benefits in brand awareness and customer trust in the long run. Charlottesville has so many small businesses and there is so much potential for elevating these businesses within the community through solid brand awareness and strong collateral.
What is something about you that most people don't know?
My very first "professional" design piece was created years before I even knew what graphic design was! In eight grade I submitted a drawing for an art contest advertising the Ballet Folklórico de México de Amalia Hernández upcoming performance in town. Much to my surprise, my illustration was selected as the grand prize winner and was blown up and displayed on a billboard along the Interstate. Even though it was so long ago, the feeling of pride and happiness still sticks with me.
What's your favorite local activity or place to go?
As a newbie to Charlottesville, I have to yet identify my favorite go to place but as wine-loving, cider-drinking, foodie mom of two young children, I'm excited about all the wineries, cideries, eateries and family-friendly places available for me to check out this year and beyond. The world (aka Charlottesville) is my oyster!
Why did you choose the Charlottesville area?
We made the move to Charlottesville from San Antonio, TX, this past fall so that my husband could take a fundraising position with UVA. It was a big leap of faith to move from our village network of family and friends to a new city where we knew no one, but I am excited about all the potential that Charlottesville offers - both professionally and for our family.
Who do you cheer for, and why?
In the sports sense, as someone who grew up in San Antonio, the Spurs hold their rightful place in my heart. And while I don't really follow football, I do like to say that I am a Packers fan by marriage! But in all reality, since I'm not really a big sports fanatic, I cheer for my family and friends! For their accomplishments and achievements. So many people around me are doing amazing things with their lives, and being able to witness that, and cheer them on, is truly special.
What's the best advice you ever got (or gave)?
To give myself grace. The second half of 2019 was a super crazy time – sold a house, left my job of ten years, moved out of state, launched my freelance career full-time, and added a second child to the mix - it was a lot! And everytime I start to feel overwhelmed and question if I can keep up and maintain my type A personality standards and the high expectations I hold for myself, I recall the several voices that advised me along the way in my journey to pause, and give myself grace. They reminded me that the challenges ahead would be temporary and I should allow myself to feel the impact, but that I should at the same time "forgive" myself and simply move with the moment. All moments eventually pass!
What do you like about being a Chamber member?
I've really enjoyed meeting so many new people representing a variety of industries. I've had the chance to attend both the Business Women's Round Table and the Minority Business Alliance luncheons and have enjoyed the speakers and the networking opportunities.