COVID-19 Health Guidelines for Businesses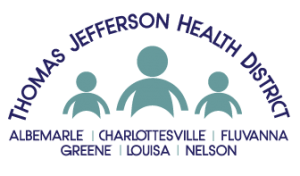 A letter to the business community from Thomas Jefferson Health District Medical Director Dr. Denise Bonds
April 23, 2020
Dear Business Leaders:
The Virginia Department of Health's Thomas Jefferson Health District (TJHD) is closely monitoring the COVID19 pandemic locally. This is a rapidly evolving situation with information changing regularly. As of March 30, Governor Ralph Northam issued a stay-at-home order (Executive Order 55) which is in effect until at least June 10, 2020. TJHD recognizes the financial hardship that this pandemic may cause employers and workers. We applaud the business community for its active role in protecting workers and the community at large!
KEY RECOMMENDATIONS
We would like to share the Centers for Disease Control (CDC) guidelines for businesses to minimize spread of COVID-19. We strongly encourage that you review and implement these guidelines:
We specifically recommend that you provide cloth face coverings to all your employees and
encourage them to wear them when they are interacting with each other or patrons of your
business. Employees are much more likely to wear a face covering if they are provided by their
employer.
Encourage employees who are not feeling well to stay at home. If they are experiencing symptoms of COVID-19, they should contact their primary care provider or call TJHD's hotline at 434-972-6261. TJHD can connect them to free testing if they are uninsured.
Routinely clean AND disinfect all frequently touched surfaces, such as countertops and doorknobs. Use approved cleaning agents and follow the directions on the label.
Provide disposable wipes so that commonly used surfaces (for example, doorknobs, keyboards, remote controls, desks) can be wiped down by employees before each use.
Discourage workers from using other's phones, desks or equipment when possible.
Provide soap in the washroom and hand-sanitizer in multiple locations.
Take special care to ensure that employees who have a higher vulnerability or risk of infection which maintain physical distancing (6ft from others) and minimize face-to-face contact.
For more information about employer recommendations, please visit:
Where can you get cloth face coverings for your employees?
Call the Charlottesville-UVA-Albemarle Emergency Operations Center at 434-297-8415
Please share these resources with your employees:
Thank you for protecting the health and safety of your employees and the community.
Sincerely,
Denise Bonds, MD, MPH
Director, Thomas Jefferson Health District
Virginia Department of Health