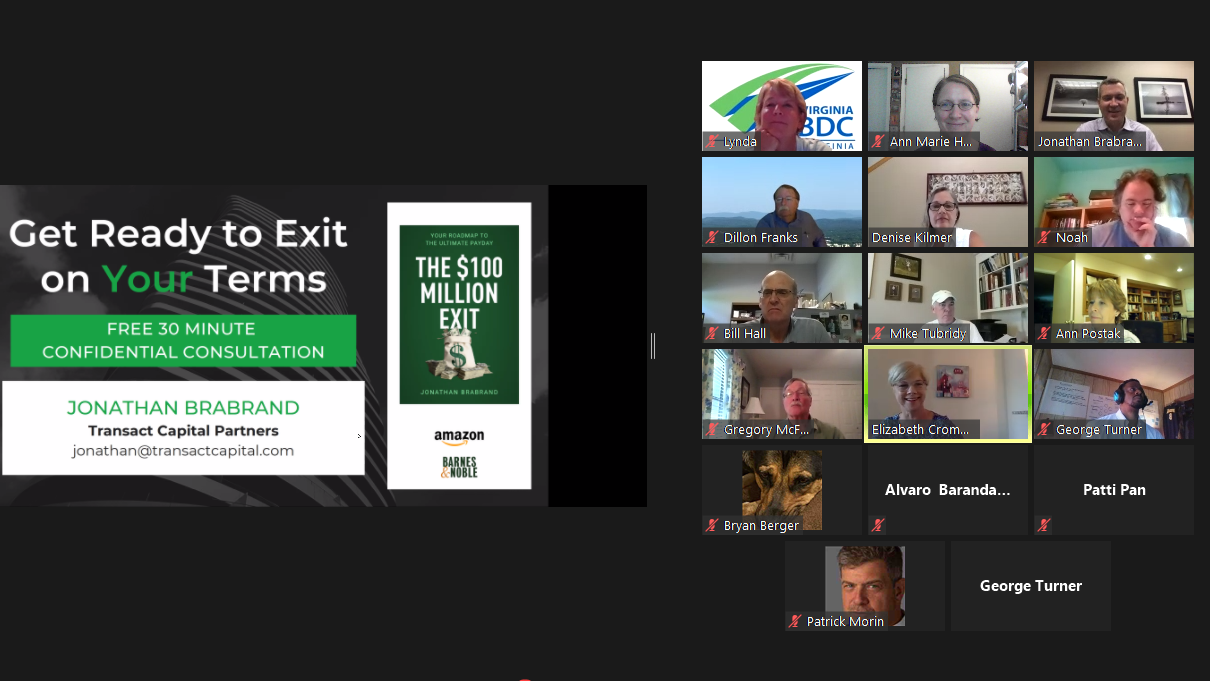 ProTip Tuesday: Exit Strategies
Jonathan Brabrand, Managing Director, Transact Capital Partners
June 23, 2020
"Every business owner will exit their company at some point; the trick is doing it on your own terms."
Jonathan shared when and why business owners might choose to exit, how they can prepare, and what the process normally looks like.
Typical "M&A triggers" include retirement, health issues, industry pressures, family dynamics, or unsolicited offers. In order to make the most of your exit when one of those times comes, it's important to prepare in advance.
Jonathan's tips for being sale-ready include:
Develop industry relationships
Raise your profile in your industry
Connect with private equity groups
Report out to someone external on a strategic plan and how you've met it
Have a plan for stepping back from your role
If you're wondering when is the most favorable time to exit, Jonathan counsels owners to "exit in the 6th inning," while your business still has growth potential in the future. Don't wait until your business is in decline. While M&A markets are expected to stay hot for the foreseeable future, industries go in and out of favor. It's harder to sell a business when the industry overall isn't popular with investors.
How much your company is worth can be hard to determine when it's privately held. Jonathan says there's both art and science. You have data in the form of balance sheets, cash flow etc. The art is about things like positioning and identifying strategic value to a potential buyer. Jonathan helps his clients identify the "spike bid" - a buyer who, for their own reasons, is willing to pay more than other buyers.
To increase your company's value, it's important to reduce perceived risk. Buyers will look for signs like a diversified customer base, consistent performance, recurring revenue, and a strong leadership team.
Special thanks to Jonathan for donating ten free consultations to attendees of this workshop!
---
Jonathan Brabrand is Managing Director of Transact Capital Partners, a boutique M&A advisory firm headquartered in Richmond. He has spent over 20 years helping business owners within a wide variety of industries sell their companies to their ideal buyer and achieve the exit outcome they dreamed of. His new book, The $100 Million Exit:  Your Roadmap to the Ultimate Payday, analyzes large mergers and acquisitions successes and failures to draw practical, actionable advice that company owners can implement to increase the value of their business and be better prepared for an exit.  Learn more about Jonathan and his business