Chamber Welcomes New Chairman, Four New Board Members for 2021 Term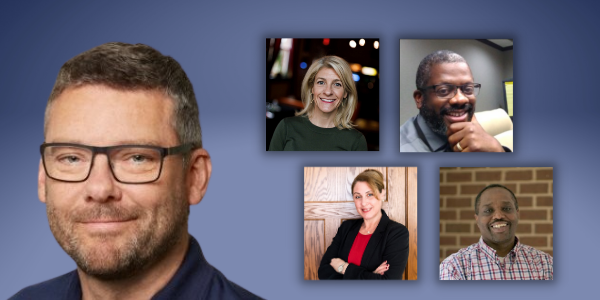 The Charlottesville Regional Chamber of Commerce welcomes a new Chairman of the Chamber Board of Directors and four new board members for 2021.
Guy Browning, Senior Vice President - Fulfillment for MacMillan Publisher Services (MPS), will serve a one-year term as Board Chairman. Browning brings to the role a wealth of experience in business strategy, business process improvement, systems thinking, and organizational change management.
Browning had planned to serve as Vice Chairman in 2021. He moved into the Chairman's role when Chairman-Elect Jonathan Davis announced plans to relocate for a position as Chief Operating Officer for FirstHealth of the Carolinas.
New board members include Kara Chandeysson, City Manager for Ting Charlottesville; Keith O'Neil, Chief Operating Officer for UVA Community Credit Union; Ravi Respeto, President & CEO for the United Way of Greater Charlottesville; and Charlie Rogers, President/CEO for Innovative Software Solutions (ISS).
"Our new board members share a deep commitment to this community," said Chamber President & CEO Elizabeth Cromwell. "We're grateful to add their talents to our board in this pivotal year for economic recovery."