Chamber Spotlight: Darius Wynn, Passioo and Swyft Transportation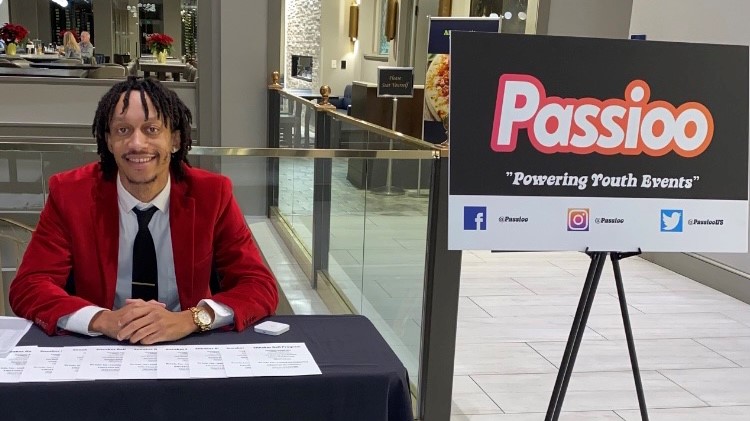 What does your organization do?
I have two businesses. Passioo is an event management service that allows organizations to sell digital tickets for their events. Customers are provided with a QR code as a ticket and can scan it at events for entry providing a contactless check-in and is ideal for the current pandemic we're facing. Our innovative and sustainable model is the way of the future.
Swyft Transportation is a non-emergency medical transportation company. We are partnered with Medicaid and other insurance providers to take customers to doctors appointments, physical therapy, cancer treatments, and even to get vaccinated.
What is unique about your organization and the work you do in our community?
Passioo is unique because it is ideal for protecting against Covid by allowing contactless entries and it helps the organization keep tabs on customers because you have an exact head count of how many people are attending your event.
Swyft is unique because we specialize in providing transportation for individuals in rural communities and in low income areas. Many of these individuals would have no way of getting to their appointments without us. We provide supreme customer service to all of our customers and maintain a "Swyft Standard."
What was your first job?
Anyone who really knows me, knows that my first "job" was as a ticket broker outside of UHALL and Scott Stadium but my first "real job" was at Legends Sneakers and Apparel.
How did you choose the field you're in?
Passioo was an easy choice because I've been around tickets and events my entire life and I absolutely love attending events, especially anything involving sports.
Swyft came about a little differently; I was driving Uber for extra money and began to recognize that there was a huge market in medical transport. I ended up doing more research and decided to pursue opening a business in medical transportation.
What career highlight or accomplishment are you most proud of?
Winning the competition at Rutgers University for best business with Passioo a few years back was a pretty big deal and a boost of confidence because it solidified in my mind that our business was beneficial in other people's eyes and that it was something worth pursuing. We also won capital at that event so it was really exciting and something that I'll always remember, and in my mind it kind of marks the birth of me as a serious entrepreneur.
What's your favorite thing about the Charlottesville area?
This is by far the easiest question, The University of Virginia. I'm a huge UVA fan and go to all the basketball and football games. Nothing tops a night football game or college gameday showing up to JPJ and enjoying the electric atmosphere.
What do you believe is most important for the future of our region?
From a business aspect, the most important thing is that everyone is informed of opportunities. When you're in the "circle" then people inform you about opportunities to advance your business and different resources but if you're not in the inner circle then you're kind of on your own. Everything is so much better when people support each others' business and want to see others win. We do a good job of that in this area but there's always room for improvement.
What is one of your favorite local businesses, and why?
I can't just name one for this one. I'd have to say Scrimmage Play and Julian's Juicebox. Scrimmage Play provides such good content in regards to local sports and they really give kids a platform to be seen. I love seeing the new talent in the area and seeing their highlights. Julian's Juicebox is not only a healthy option but it's the most delicious healthy option. The owners of both businesses are really good genuine people and definitely deserve more recognition.
What is one of your favorite nonprofits to volunteer with or support, and why is it important to you?
VABA is probably my favorite non-profit because they have such a big platform and give so many kids the opportunity to play basketball. As a former college athlete and basketball player, it's nice to see kids playing the game at a young age and being coached by individuals that aren't only good people but also understand the game of basketball and teach it well.
How do you like to spend your days off?
Most days off are spent in the house watching Netflix now because of Covid but when we aren't all inside, I enjoy going to Carter's Mountain and enjoying the music and views or going to watch a new movie at Regal with my girlfriend Olivia.
What book, TV show or podcast would you recommend, and why?
The Secret To Success podcast with Eric Thomas is something I listen to practically every day. It's a good mix of entertainment and life lessons and I've learned so much from them whether it's a business tip, personal development, or even relationship advice. The guys on the podcast are down to earth and really discuss their own personal problems and situations in order to help their listeners.
If you had a theme song, what would it be?
Dreams & Nightmares by Meek Mill
What is your favorite quote or piece of advice?
"When you want to succeed as bad as you want to breathe, then you'll be successful" - Eric Thomas
What do you like about being a Chamber member?
Getting updates about different entrepreneurs. I love being able to use a local business whenever I have the opportunity.