Chamber Spotlight: CBIC Gala Week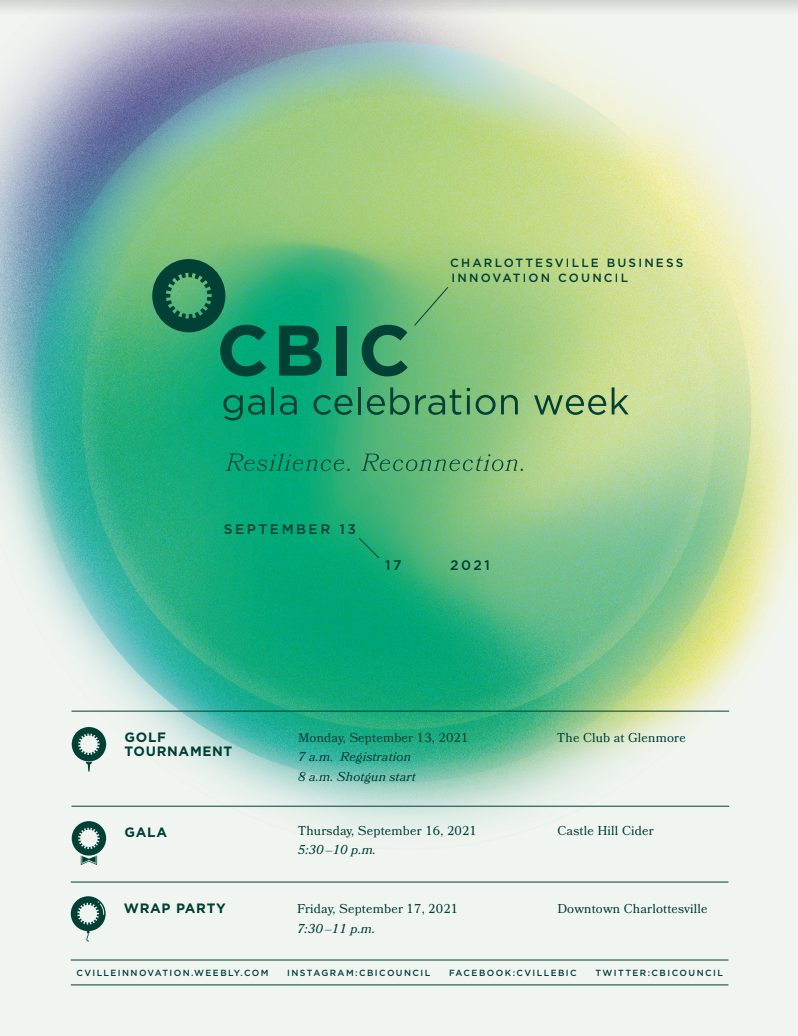 Charlottesville Business Innovation Council (CBIC) Gala Celebration Week
September 13-17, 2021
cvilleinnovation.weebly.com
What does your organization do?
CBIC educates, celebrates and advocates for Charlottesville's technology community and to accelerate technology innovation and entrepreneurship in the region.
Tell us about your new project!
The Charlottesville Business Innovation Council's 23rd Annual CBIC Awards Gala is CBIC's largest and most important fundraising event for the organization. This year, we've reimagined the Gala from a single, annual celebratory evening to three very different events, all held in one week.
This year features CBIC's inaugural Golf Tournament, which tees off the celebration week, followed by our more traditional Gala on Thursday night, at Castle Hill Cider, and the week wraps up with a dance party in Downtown Charlottesville, on Friday night.
What inspired you to launch this project? What need does it fulfill?
CBIC's Awards Gala is the only one of its kind celebrating our region's tech innovators, change makers, student entrepreneurs, and social impact startups. Our goal has always been to support and promote this diverse ecosystem. With this comes a unique set of needs. By diversifying to three events, we are reaching more people through different events for every person and company: formal vs. casual, golf vs. dance, a sit-down meal vs. heavy hors d'oeuvres.
Plus, we surveyed our members and stakeholders and found resounding support to move away from the Zoomisphere to in-person events. Each of our events have indoor and outdoor space and lots of room to spread out. We feel it's the perfect blend of being back together and maintaining safety.
What does success look like for this project?
We hope that our new Golf, Gala, and Wrap Party events are widely attended, generously sponsored, and covered widely by multiple regional news outlets. We aim to garner significant attention for our exceptional award finalists and recipients.
We hope these events will attract a curiously-minded group who will individually and collectively take notice of the strength of our high-growth business ecosystem. Further, we hope that the local vendors and venues we partner with will see an uptick in their patronage and feel the love of our community as they bounce back and recover from an incredibly stressful time.
What can Chamber members do to help this project succeed?
Chamber members can support the CBIC Awards Gala Celebration Week by sponsoring the events, purchasing tickets and attending any / all of the three events. This support is impactful to CBIC, our region's non-profit tech council, and to the entrepreneurs, startups, and businesses that comprise our innovation business ecosystem growing and transforming together.
Entrepreneurs and their innovations create jobs and positively impact our local community. Founders are creating new economic opportunities at a crucial moment as our community recovers from the pandemic. The people building these local companies represent the opportunities ahead. Come celebrate our collective "industry" and the amazing individuals who build and grow it, locally!