City, County, UVA Leadership to Speak at First Annual State of the Community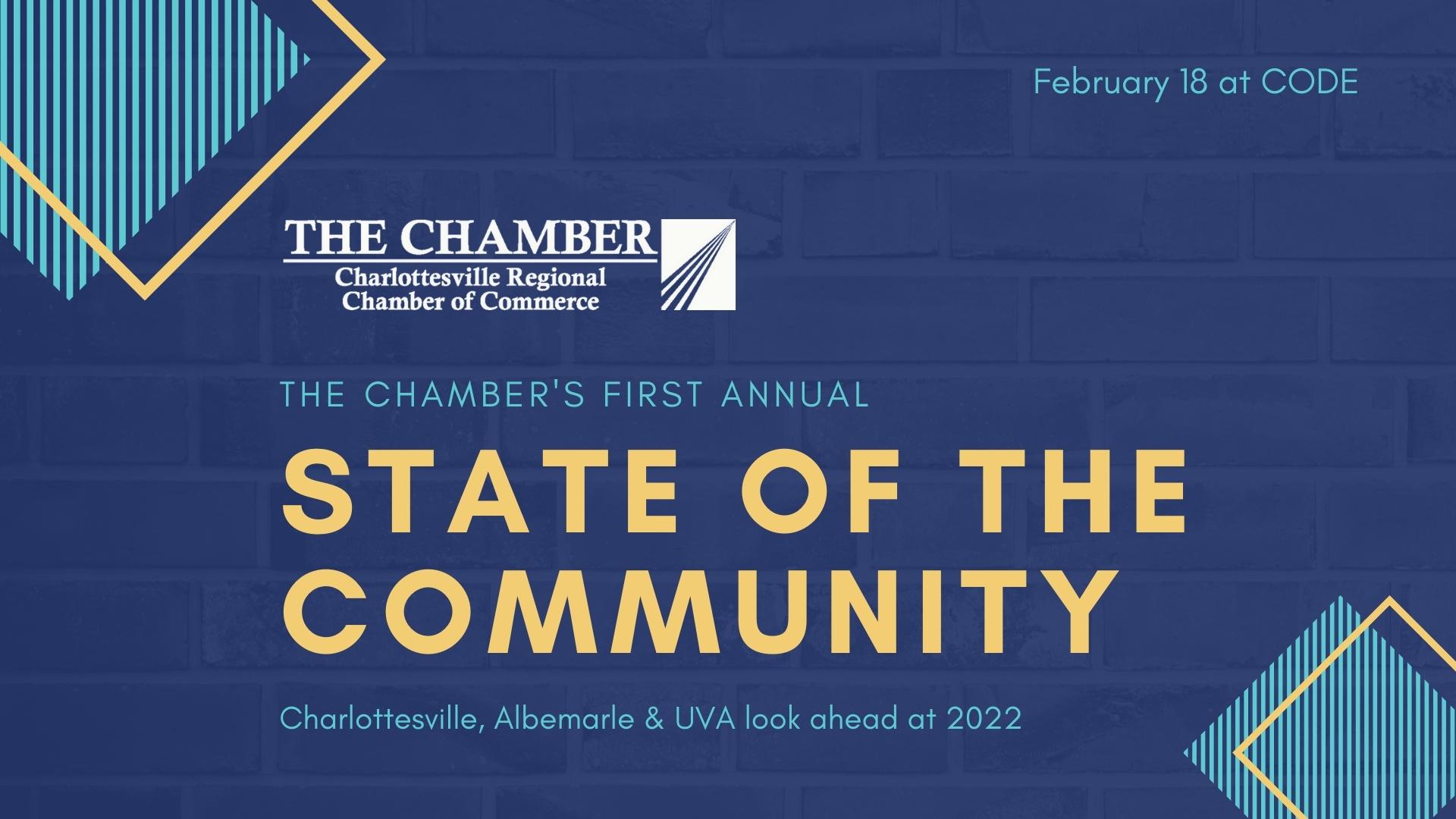 The Charlottesville Regional Chamber of Commerce will host its first annual State of the Community event on February 18, 2022, at the Center of Developing Entrepreneurs (CODE) in Charlottesville.
The new event is an opportunity for members, business leaders and the general public to hear first-hand from executive leadership of the City of Charlottesville, Albemarle County and the University of Virginia.
Speakers will discuss the economic impact of their respective organizations on our community, with the goal of building economic success and regional prosperity.
University of Virginia President James E. Ryan will speak on his administration's initiatives to strengthen the relationship between UVA and the surrounding Charlottesville/Albemarle community. Ryan will address the audience virtually via live video.
Albemarle County Executive Jeff Richardson will reflect on how the past two years have shaped our community and how the County is transforming to best meet the community's needs moving forward.
Michael C. Rogers, who started his role as Interim City Manager for the City of Charlottesville on January 31, will take questions from the public in one of his first major appearances since taking the helm of City government. Rogers will be joined for a panel-style discussion by Ashley Reynolds Marshall, Deputy City Manager for Racial Equity, Diversity, and Inclusion; and Sam Sanders, Deputy City Manager for Operations.
"We envision the State of the Community as a signature, must-attend Chamber event for the private, public and nonprofit sectors in coming years," said Chamber President & CEO Elizabeth Cromwell. "By convening the business community to engage directly with top leadership of our local institutions, we aim to identify shared opportunities that will benefit the entire region."
State of the Community will be the first public event held in The Irving Theater at CODE, a newly completed co-working and office building at the west end of Charlottesville's Downtown Mall. The Theater's public entrance is at 225 West Water Street, near the transit stop across from the Omni Hotel.
With seating limited to allow for social distancing, tickets for the event sold out quickly, Cromwell said. Members of the press are invited to cover the event but must make arrangements in advance by contacting annmarie.hohenberger@cvillechamber.com.
In keeping with the Chamber's current precautions for in-person events, all attendees will be required to wear face masks and provide proof of COVID-19 vaccination or a negative COVID test.