Women's History Month: Bunmi Adeeko Collins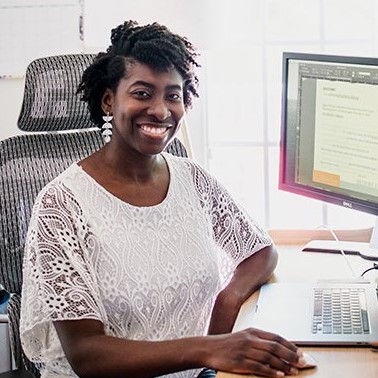 "Your voice matters."
– Bunmi
What kind of work do you do?
I am a graphic designer and the founder of a boutique graphic design studio. I started StickyNote Creative to help businesses reach the next level with design that has purpose. I love merging business goals and creative objectives in a strategic and thoughtful way that elevates brands and collateral beyond just looking "pretty." I'm passionate about the world understanding that graphic design is not just about making things look pretty, it's a practical art that is intended to communicate messages.
What goals and values motivate your work?
I value true connections. As I get older, I learn more about myself and one of those insights is that I thrive in situations where I can form genuine and authentic relationships - both professionally and personally. And as an introvert, while I don't have a desire to be best buddies with everyone I meet, or every client I work with, connecting with my clients allows me to listen closely and tuly hone in on what they need from a collaboration with me.
I am at optimal motivation when I can fully be in my zone of genius – my love of information and organization, my need for reflection and thinking and my ability to let my mind visualize all the possibilities all push me to work hard and take immense satisfaction in the work I co-create with my clients. An American graphic designer named Jessica Walsh once said "Do work that feeds your soul, not your ego." And I take that to heart. I care about my client's successes and I care about creating visual solutions that have purpose and reflect the value they have to offer the world.
What's your advice for young women starting their careers?
Your voice matters. I've often been in rooms where I was the only female in the room. Or the only African-American in the room. Or the only African-American female in the room. A room full of caucasian men. In my 20's and early 30's, this shy, introverted professional didn't use her voice. Looking back, I wish I had realized the value of my thoughts and opinions more and had not been afraid to voice them.
I was fortunate to have a boss who constantly encouraged me to use my voice. He saw what I had to offer way before I saw it and he was a constant advocate for me to step into the light that I could shine for the 10 years I worked for him. And in that time I finally started realizing that my expertise and experiences are valuable and people - men and women alike want to hear what I have to say. And they want to hear what you have to say and what you can offer to the conversation.
Use that voice. Share your suggestions, your thoughts. Don't wait for 10 or 15 years in your career to pass while you stand back covering your brightness - shine girl, shine!