Women's History Month: Kyna Thomas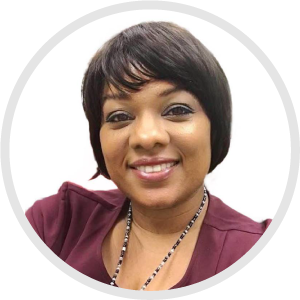 "Be adaptable and willing to take appropriate risks when an opportunity presents itself."
– Kyna
Kyna Thomas is Chief of Staff/Clerk of Council for the City of Charlottesville
What kind of work do you do?
As a municipal clerk. I am responsible for recording the actions of City Council and maintaining permanent records such as meeting minutes, ordinances and resolutions. I am also the keeper of the City seal. I serve as a resource for the public, City Council, city staff, and the various Council-appointed boards and commissions.
What goals and values motivate your work?
A goal that motivates my work is to accurately and succinctly document the actions of City Council so that it is easily understood and accessible for years to come. It is interesting how one piece of information can be the missing link to bring closure to an issue or to complete a story.
A few of the values that motivate my work are integrity, dependability, respect, resourcefulness and accuracy. Although I work in a political environment, I have found that holding to my personal values allows me to maintain the neutrality of the clerk position.
Tell us about a woman whose work you admire. How does she inspire you?
While I could list any number of well-known women's names, one of the people whose work has inspired me the most is an early mentor of mine, Linda Adams, from my days in the insurance industry in Lynchburg, VA. She was not only excellent at her procurement role, but she was a people magnet – warm and enthusiastic, impeccably dressed, and held her own as one of the only black female leaders in the organization. We are still in touch and I still look up to her.
In your career so far, what positive personal changes have helped you to be more impactful?
My role requires a great deal of mental and to some extent physical endurance, so I have finally made time to practice yoga (preferably hot yoga). I find that it helps with mental clarity, allowing my brain to rest for a few moments, corrects many ailments from a very sedentary job, and releases stress in a way that I hadn't necessarily found in other workouts.
What's your advice for young women starting their careers?
Oh, there is so much advice. I am a self-diagnosed workaholic. I like to work, and I have built the endurance to work a lot. My first piece of advice (and this could also be self-talk) is to strike a balance with work and home life. Of course every situation is different, so what looks like balance for one may not be the same for another.
My second piece of advice is to be observant and pay attention to not only what is expected of a person in your role, but of other roles further along the career path. Ask yourself what areas you need to develop to be competitive at the next level, then do the work to acquire those skills. What will make you stand out? Can you develop a skill by volunteering or taking on a task outside of your regular role?
Third, be adaptable and willing to take appropriate risks when an opportunity presents itself. Don't automatically count yourself out because you don't check all the boxes but know that your skill of adaptability might just be what makes you the perfect fit.
Based on your experiences, what can workplaces do to better support women's success?
Workplaces can be proactive to ensure that women's voices are valued and that opportunities for camaraderie, growth and leadership are afforded to all. Many places are getting it right, but unfortunately there are still ceilings and systems that need shattering.
What podcast, book or film has helped you be your best self at work?
It's interesting that my children seem to remember quotes with ease, although I rarely remember specific quotes or lines once I've finished a podcast, book or film. I do remember the inspiration, so I'll name a few that have helped me to show up as my best self:
Podcast: A Daily Purpose Bible Study & Devotional by Torrie Slaughter
Books: What I Know for Sure by Oprah Winfrey; Year of Yes by Shonda Rhimes; Atomic Habits: An Easy & Proven Way to Build Good Habits & Break Bad Ones by James Clear
Film & book: Hidden Figures