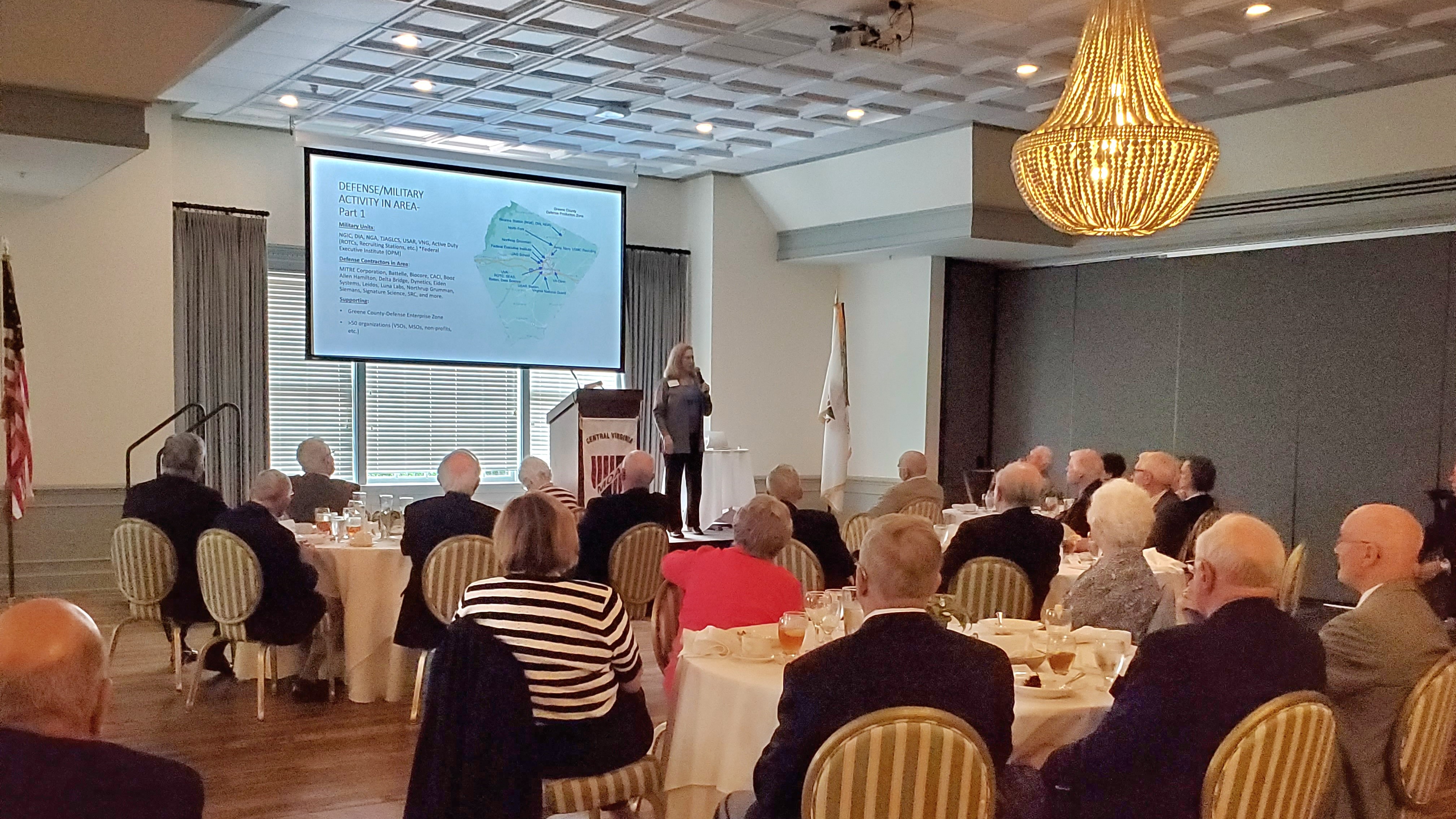 Community advocate Lettie Bien addresses Chapter at May luncheon
From The Bugle, Volume 50, Issue 6 – Central Virginia Chapter of the Military Officers Association of America (MOAA)
Chapter member Colonel Lettie Bien, U.S. Army Reserve (Ret), addressed attendees at the 26 May luncheon. Colonel Bien, an attorney and community advocate, serves as the Defense Affairs Committee Program Manager for the Charlottesville Regional Chamber of Commerce, working to strengthen the alliance of relationships among the Chamber network, the community and the regional defense and intelligence community and veterans.
Using a series of slides, she provided insights to the complex set of military and DOD organizations in the greater Charlottesville area and the even more complex set of community groups that interact with these organizations. She concentrated on four areas where she has a direct role in managing and influencing:
Support for UVA students (primarily undergrads) who are military veterans.
The Army Reserve Ambassador Corps: Who they are and what they do.
The Defense Community in Central Virginia: Federal, Public, Private and Non-Profit.
The unrecognized economic impact of military related individuals and organizations to the community and the state.
Additionally, Colonel Bien identified several volunteer opportunities for CVC MOAA members on local issues:
National Defense Cadet Corps (NDCC) at Monticello High School, with 37 students, lacks resources for training equipment and uniforms. They need help recruiting new students to reach a corps of 100, which is the minimum required to become a JROTC program.
Attend events like UVA football games for which there are free tickets for veterans.
Provide support to Army reservists and their families through www.chamberofcommerce.com.
The complexity of her comments is reflected in the Stakeholders slide she presented and which is reproduced on page 5 (PDF). All in all, this was an extremely useful discussion that could result in more effective interaction by organizations like MOAA and its members. Specifically, it may help to inspire some to consider additional opportunities to volunteer in support of our military and veteran community.
This article was co-authored by Lucy Johnson and Tad Oelstrom.
Click here for additional luncheon photos by Mike McKee on page 4 of The Bugle (PDF).