Chamber Spotlight: Green Business Alliance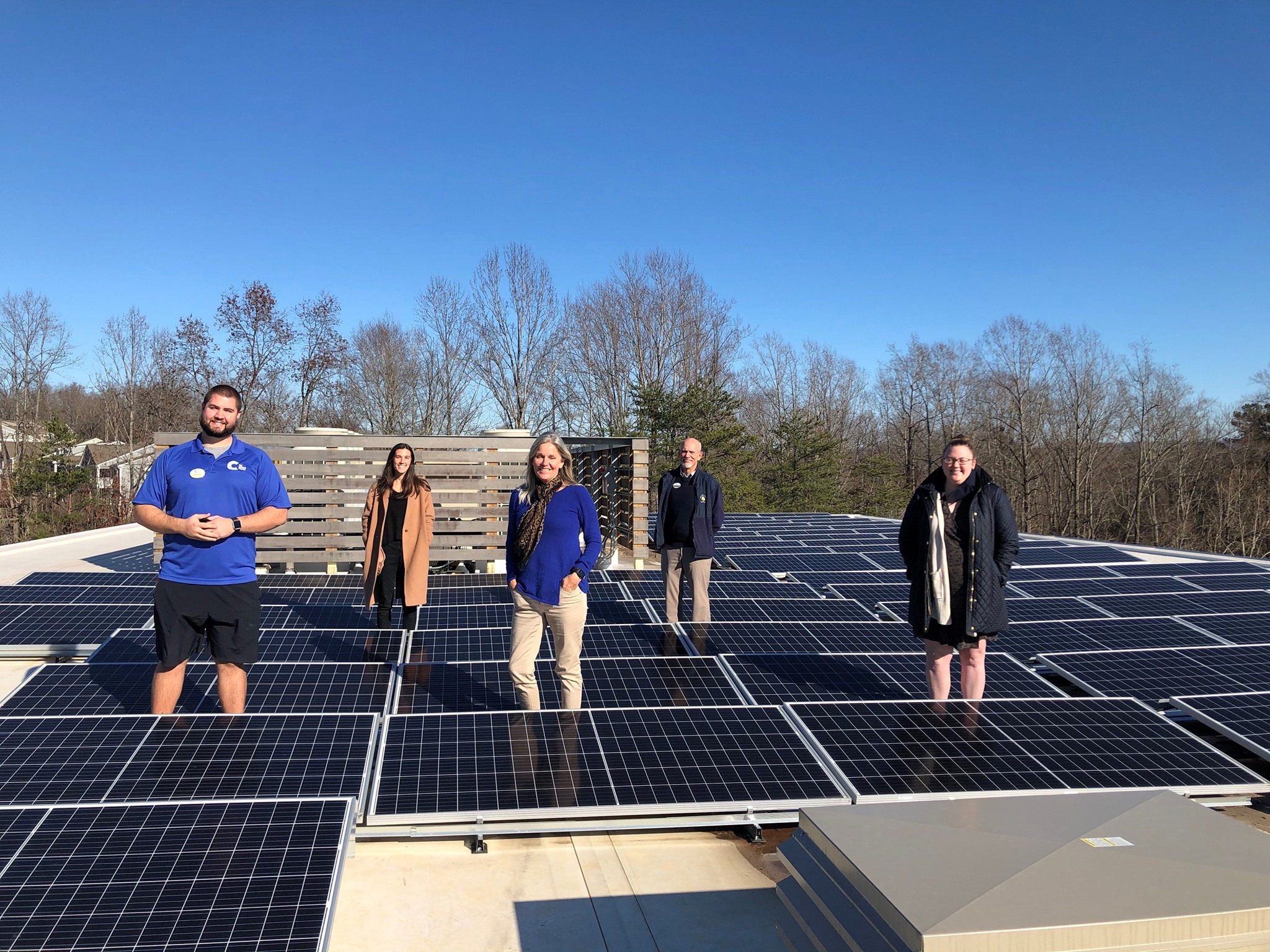 The Community Climate Collaborative (C3) is a local non-profit with a singular driving force: the belief that citizens, businesses, and local governments have the power to take action, implement policy, and reduce emissions right here at home. C3 catalyzes climate action at the community level through collaboration, programs, and advocacy which directly reduce climate pollution and elevate the climate leadership of Virginia communities.
On the business side, one of C3's most important programs is a growing group of organizations called the Green Business Alliance (GBA). The GBA is a group of sixteen (and counting) climate-minded employers headquartered in the Charlottesville/Albemarle area.
These organizations are diverse in just about every way, with a wide variety in mission, scope, and workforce. Despite their differences, they have banded together with one common goal: to raise awareness for sustainability and to help mitigate climate change by taking action to reduce their collective carbon footprint.
Last spring, GBA representatives pledged to reduce their greenhouse gas emissions by 45% by 2025. This target matches the reduction goals set by the City and County governments in half the time, setting the GBA on course to be true local climate leaders. In addition to the group goal, each company has its own individual emissions target.
Coles Jennings, C3's Director of Corporate Sustainability, has the honor of working with each one of these companies to map their carbon footprint and develop solutions for meeting their goals. This spring, with all of their 2021 data collected, C3 announced that the GBA has reduced their greenhouse gas emissions by 28% below baseline, meaning they are nearly two thirds of the way towards their target! This has certainly been cause for celebration among the group, yet there is an understanding that there's a lot of work yet to be done.
C3 continues to recruit new businesses to join the GBA, with the goal of adding a second cohort by the end of the year. This second cohort will have its own emissions reduction goals that C3 will help facilitate, and will combine forces with current GBA members to continue to grow the voice of the local green business community.
C3 is hoping to continue the theme of diversity with respect to industry, size, and corporate culture. This really helps strengthen the GBA mission and make sure a variety of perspectives are at the table.
C3's vision for the GBA is that, by taking direct action, the collective voice of this group will become increasingly potent, not only at the local level, but in the state house as well.
Businesses and nonprofit organizations interested in joining the Green Business Alliance can contact Coles Jennings at coles@theclimatecollaborative.org.
Join these Chamber members in the Green Business Alliance:
Hantzmon Wiebel (Partners in Trust)
Sentara Martha Jefferson (Partners in Trust)
CFA Institute
Carter Myers Automotive
The Center at Belvedere
Red Light Management
Tiger Fuel
WillowTree
To celebrate the GBA's first successful year, C3 cataloged some of the actions that the member organizations are taking.
Going Solar
Several GBA members are going solar and seeing the benefits in their energy costs and carbon footprint:
CFA Institute has had rooftop photovoltaic (PV) and hot water panels since their LEED-certified renovation in 2016.
Carter Myers Automotive has solarized both their Nissan and Volvo locations, including the installation of one of the largest solar parking canopies in the Mid-Atlantic.
InBio went solar at their Harris Street lab, offsetting more than 35% of their electric usage.
Tiger Fuel has literally gone solar by acquiring a local solar installer, now called Tiger Solar. They have plans to use this new in-house operation to solarize all of their regional market and car wash locations.
Red Light Management is facilitating the installation of solar panels on public housing redevelopments at Crescent Halls and South First Street. This unique arrangement leads to direct energy cost savings at no expense to the residents.
Collectively, GBA members have installed more than 1,600 solar panels, mitigating over 550 Metric Tons of Carbon Dioxide equivalent (MTCO2e) in 2021. This equates to 120 cars removed from the road, or as much carbon as is sequestered by 650 acres of US forests in a single year.
New Buildings
Several GBA members have also moved into new facilities. This has provided a unique opportunity to focus on energy efficiency as a way of contributing to emissions reductions:
The Center at Belvedere relocated to a new building, where solar PV offsets more than 50% of their electric usage. While their physical footprint is now more than 2.5x their old location, their carbon intensity is down 60% thanks to their PV panels and a deep focus on energy conservation.
Apex Clean Energy recently opened their brand new downtown headquarters. Apex will be the anchor tenant of the new building, Apex Plaza, which will be ultra-efficient and includes rooftop solar as well as a unique solar canopy over the public courtyard. Perhaps most exciting is the building's mass timber construction, making it the tallest such structure on the east coast. Mass timber yields a significant reduction in embodied carbon compared to steel or concrete, meaning much less emissions are generated to harvest and process the construction materials.
Quantitative Investment Management has relocated to the new CODE building as a feature tenant. CODE will be LEED gold certified, with high efficiency systems and a unique series of green roof terraces.
WillowTree has moved to the recently redeveloped Woolen Mills. This unique project pulled no punches in improving the historic façade with energy efficient upgrades, including over 14,000 panes of insulated glass in the original window frames.
Keeping it in the GBA family, Sun Tribe moved into WillowTree's old location on the downtown mall to accommodate their growing workforce. They'll be completing an energy assessment and planning for efficiency upgrades in the coming year.
Hantzmon Wiebel has relocated to a more efficient space on Water Street, reducing their physical footprint and energy consumption while providing more flexibility in employee work schedules.
Energy Efficiency
Energy efficiency doesn't get as much attention as it deserves, but it's a vital piece of the emissions puzzle. Several GBA members have recognized this and incorporated efficiency as a core piece of their climate actions:
When Sentara Martha Jefferson Hospital moved from their downtown location, their physical footprint nearly doubled while their energy footprint remained the same. This was thanks to a significant, focused effort on energy-efficient operations from their in-house facilities team. Martha Jefferson has been praised as a sustainability leader within Sentara's organization of hospitals across the state.
InBio completed an energy audit and proceeded with recommended upgrades to their HVAC system and energy management controls. Through these upgrades, their gas usage has reduced by 40% in a single year!
Legal Aid Justice Center received an energy audit through C3's non-profit support services. This audit has facilitated several upgrades at their Charlottesville office, including building weatherization and HVAC replacements.
Since opening their newly renovated building in 2017, Harvest Moon Catering has focused on efficient operations and equipment, including variable speed range hoods and premium condensing boilers.
Electric Vehicles
Last but not least, GBA members are taking actions on their fleet emissions and supporting electric vehicle adoption by their customers:
Sigora Solar recently started their fleet electrification process, awarding two of their top sales staff with the keys to a Tesla for the upcoming year.
Tiger Fuel installed DC fast chargers for customers at their Mill Creek Market, with plans to expand this service to other locations.
Carter Myers Automotive now has Level 2 charging stations available for employees and visiting customers.