Discovery Tour: Greenville, SC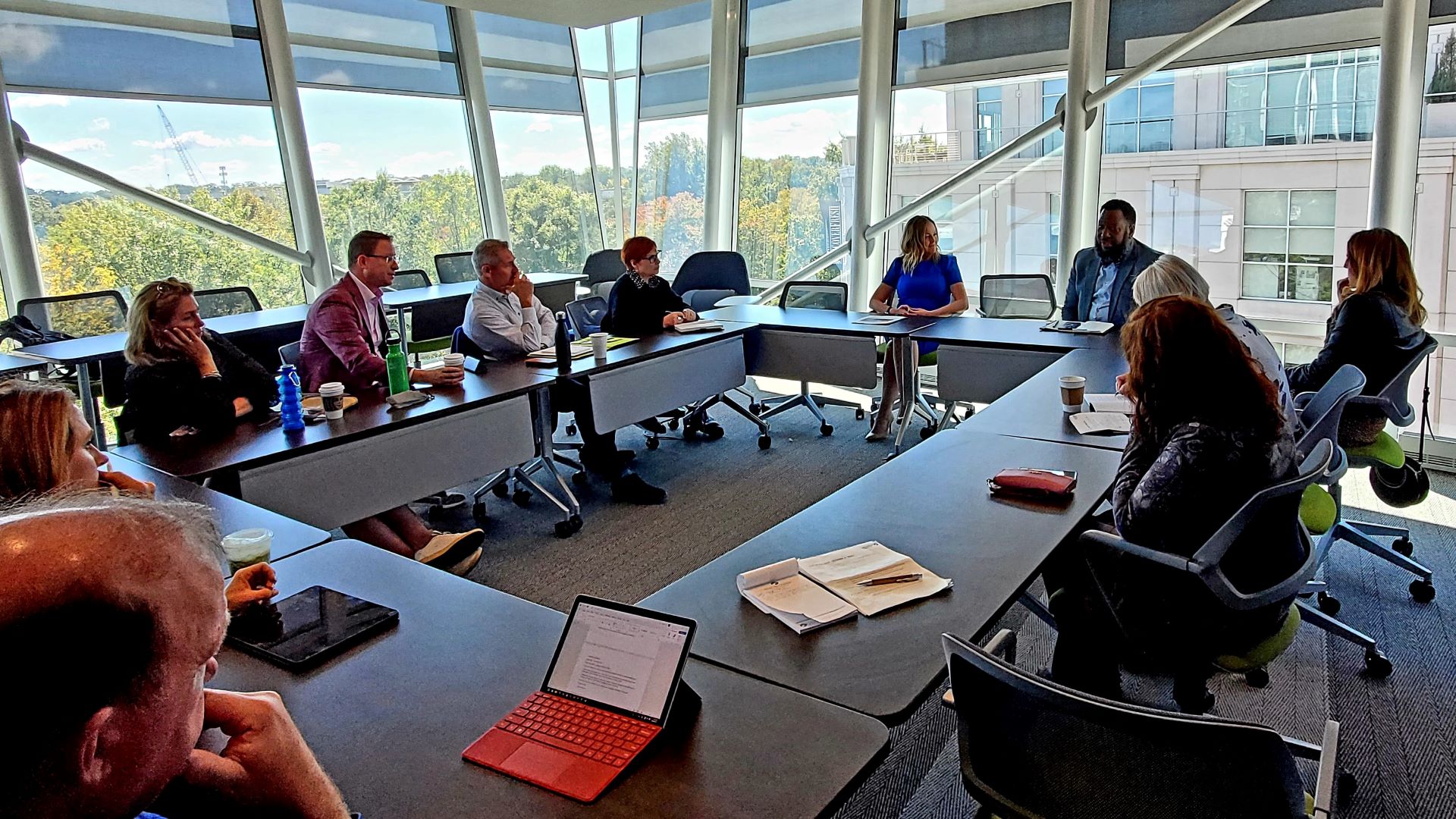 The Chamber's Board of Directors and Partners in Trust recently organized a trip to Greenville, South Carolina, as its first stop in what we hope will become the Chamber Discovery Tour series. The purpose the tour is to visit cities that have successfully navigated municipal challenges with creativity, innovation and deep collaboration between the public and private sectors to generate success. Our goals are to build relationships within our business community; learn best practices that may be replicable here; and acknowledge the value of public-private sector teamwork to build a better community.
The first stop was a logical choice. Greenville has received recognition for transforming what had become a deeply troubled empty shell of a downtown into a thriving community and a formidable regional economic engine. Greenville is now focusing on improving opportunity and economic outcomes to combat a significant wealth disparity. Municipal and business leaders were eager to share their challenges and opportunities with our delegation, and several connections were made that may be useful as Charlottesville and Albemarle County move into the future.
The Chamber Discovery Tour series will plan a trip to another thriving, successful community in 2023. If you are interested in attending, or providing a suggestion for the ideal location to visit, please contact Chamber President & CEO Elizabeth Cromwell at Elizabeth.cromwell@cvillechamber.com.
Notes from a Chamber Discovery Tour Participant
By guest columnist Neil Williamson, President, Free Enterprise Forum
Representatives from The Charlottesville Regional Chamber of Commerce and Albemarle County government traveled to Greenville, South Carolina, to learn more about that city's 40-year overnight success. Hosted by the Greenville Chamber, the trip included meetings with the mayor, members of City Council, a member of County Council, members of the business community as well as leaders from nonprofit, government, and higher education institutions.
Greenville's downtown is widely recognized as one of the best in America, earning praise from sources including Oprah, Ben Stein, "Esquire" and "Southern Living." This proud achievement is a credit to the community that banded together to build something special from a decaying city center.
In the 1980's, Greenville bulldozed Main Street, reducing traffic from four lanes to two lanes wide so they could install sidewalks and plant many shade trees. But even 20 years after this project was completed, they still had no retail establishments.
Several individuals, including the current mayor, came up with the idea to create a residential downtown, believing that residential units on second floors above retail tenants would be the "secret sauce" to downtown success.
The Chamber team learned that the city leaders established a downtown-wide Tax Increment Financing (TIF) area and worked to establish private/public partnerships to "reimagine" downtown. One of their early efforts was to build the Hyatt Hotel, which took a creative partnership to work. The project was not financially feasible for the developer until the City of Greenville created a city park (including all of the maintenance) that became the atrium lobby of the hotel itself.
The City also chose to rebuild one of its parking garages and include 100 residential units in what became known as the "bookend" project, with apartments on one side, condos on the other, and retail on the bottom. The City oversaw the development and then sold projects to private developers, a formula they repeated at least five times on other projects. This approach provided critical mass population to support the retail, which flourished. To this day, Mayor Knox White is a champion for downtown residential housing.
The city also worked with the local and state garden club to remove an existing highway bridge and replace it with an architecturally stunning pedestrian bridge and develop the Falls Park. The falls had been hidden to a generation of Greenville residents. Today it is the postcard for the city.
Concurrent with the Falls Park development, the City, in partnership with private developers, began to develop the property adjacent to their new river walk.
Throughout the downtown and Falls River Park development process, significant time and attention was dedicated to public spaces, public art, and public restrooms. There is $100,000 line item in the city budget for public art. In addition, each year there is a 24-hour art competition to place new art on the recycling centers that populate the downtown.
The City has used public/private partnerships to develop Unity Park, the Swamp Rabbit Trail, and The Red Sox minor league ballpark. All of these projects included an element of affordable housing and serve as an economic catalyst to their neighborhoods.
In addition to the many successes, many challenges also exist, and the Chamber Discovery tour wanted to delve into some of those issues as well. Greenville Chamber CEO Carlos Phillips said, "There has been significant investment in the postcard of Greenville but there is a flip side to every postcard." Currently with a population of just under 500,000, Greenville is anticipating 40% population growth by 2040. Housing inventory is low across all price points and Not In My Backyard (NIMBY) arguments are the primary opposition to new housing.
The leadership has recognized they have significant race-based inequalities in employment, health care, and income. Residents born into poverty in Greenville have a 5% chance of moving out of poverty in their lifetime. If they are African- American, that chance drops to 2%.
In response the Greenville Chamber built one of the first DEI chamber programs in the US, and has run a Minority Business Accelerator serving more than 100 businesses over the past ten years.
Additionally, the Greenville Chamber, in partnership with The Urban League and the United Way of Greater Greenville, coordinated 63 local groups to establish the Greenville Racial Equity + Economic Mobility Commission (REEM). REEM Executive Director Stacy Mills told the Charlottesville cohort, "78% Greenville Public School students live in poverty, and 80% of homeownership is white." Mills said, "We have a world-class city but we don't have world-class systems." REEM has five focus areas: education, income and wealth, health and wellness, criminal justice, and communitywide learning.
The business and government leaders on the Charlottesville Chamber mission learned the City of Greenville has benefited from a consistent vision (Mayor White is in his 26th year) and significant support from the business community and private philanthropy. They also learned the transformative power of public-private partnerships and that Greenville also has major economic inequality and racial divisions it is collaboratively, actively working to improve.
In addition to all of the data and speakers, our Discovery Tour team found great bonding opportunities at meals, during walking tours, and of course on the flight. We look forward to building upon this knowledge on our next journey.