Chamber Spotlight: UVA Imaging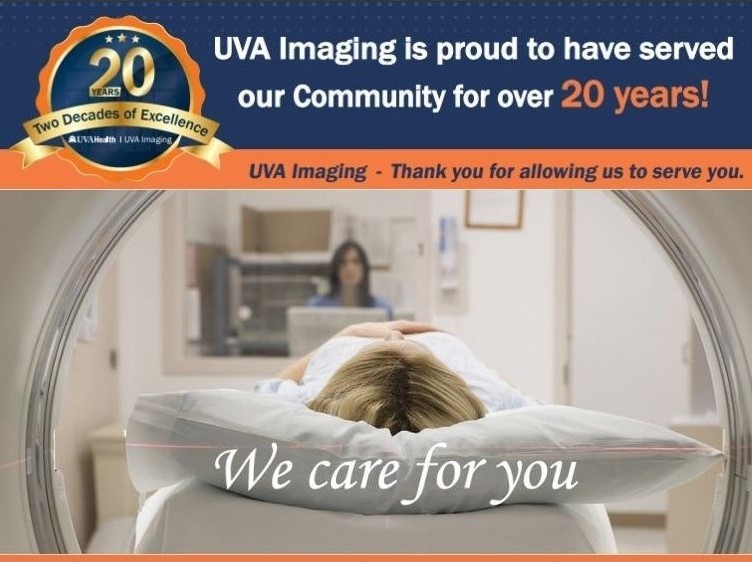 UVA Imaging
www.uvaimaging.com
Shared by Kelly Curd, Marketing Manager. You can reach Kelly at 434-243-5609 or kcurd@virginia.edu.
What does your organization do?
UVA Imaging is a state-of-the-art outpatient diagnostic imaging center which was formed in the Fall of 2002, by a partnership between the University of Virginia Health System and Outpatient Imaging Affiliates.
Our mission is to provide each patient with quality, personalized care in a comfortable setting while offering referring physicians imaging services that accommodate their most specific needs. We combine the comfort and convenience of outpatient care with the expertise and innovation of UVA Health.
Our imaging services include MRI, CT, Ultrasound, X-ray, Mammograms, Fluoroscopy, MSK Guided Injections, Fast Breast MRI and Extremity CT.
What is unique about your organization and the work you do in our community?
The center's relationship with UVA Health and its collaborative relationship with UVA Radiology faculty, academic and clinical sub-specialty excellence make it an attractive facility for patients and referring physicians.
We offer weekend hours for MRI patients (Saturdays and Sundays), and also we offer MRIs starting at 6:30 am until 9:30 pm Monday through Friday. Patients do not have to miss work in order to get these studies performed.
What accomplishment are you most proud of?
Serving this community for 20 years.
What's your favorite thing about the Charlottesville area?
The chance to partner with the #1 hospital in Virginia (UVA Health) and work with specialized, fellowship trained Radiologists.
What do you believe is most important for the future of our region?
That we come together as a community and practice kindness.
What is one of your favorite nonprofits to support?
United Way - we participate in the Day of Caring every year.
What is your favorite quote or piece of advice?
Patient safety is our number one goal!
What else would you like to tell us about your work?
UVA Imaging operates 4 outpatient imaging locations; employs 175 wonderful, dedicated staff members and proud to serve this community for 20 years.
What do you like about being a Chamber member?
Getting to know our neighbors.