Local Decision Makers Will Convene for Second Annual State of the Community
The Charlottesville Regional Chamber of Commerce today announced its second annual State of the Community event to highlight collaborative strategies for regional economic success.
On February 17, 2023, at the UVA Darden School of Business, community members will engage with more than a dozen panelists discussing entrepreneurship, workforce development and municipal decision making.
"The Chamber is uniquely positioned to bring diverse groups together and build energy around big ideas," said Chamber President & CEO Elizabeth Cromwell. "Our State of the Community is designed to spark important conversations that will shape our community's future."
In a series of panel discussions, UVA President Jim Ryan, Albemarle County Executive Jeff Richardson and Charlottesville City Manager Michael Rogers will be joined by key stakeholders in the public and private sectors across multiple industries.
The second annual State of the Community is sponsored by Ting.
"Ting believes deeply in giving back. As a place of connection for the residential, business, private and public sectors within Charlottesville, we are proud to be a part of the Chamber's Second Annual State of the Community Event," said Kara Chandeysson, Director of Public Policy & Community Engagement at Ting Internet. "Ting's local presence is only possible because of the great people who live and work here, and we're so grateful to be a part of this community."
Event registration is now open. The event will take place in the Abbott Auditorium from 11am to 1:30pm. Admission, which includes a boxed lunch, is $60 for Chamber members and $75 for non-members.
Event Agenda and Panelists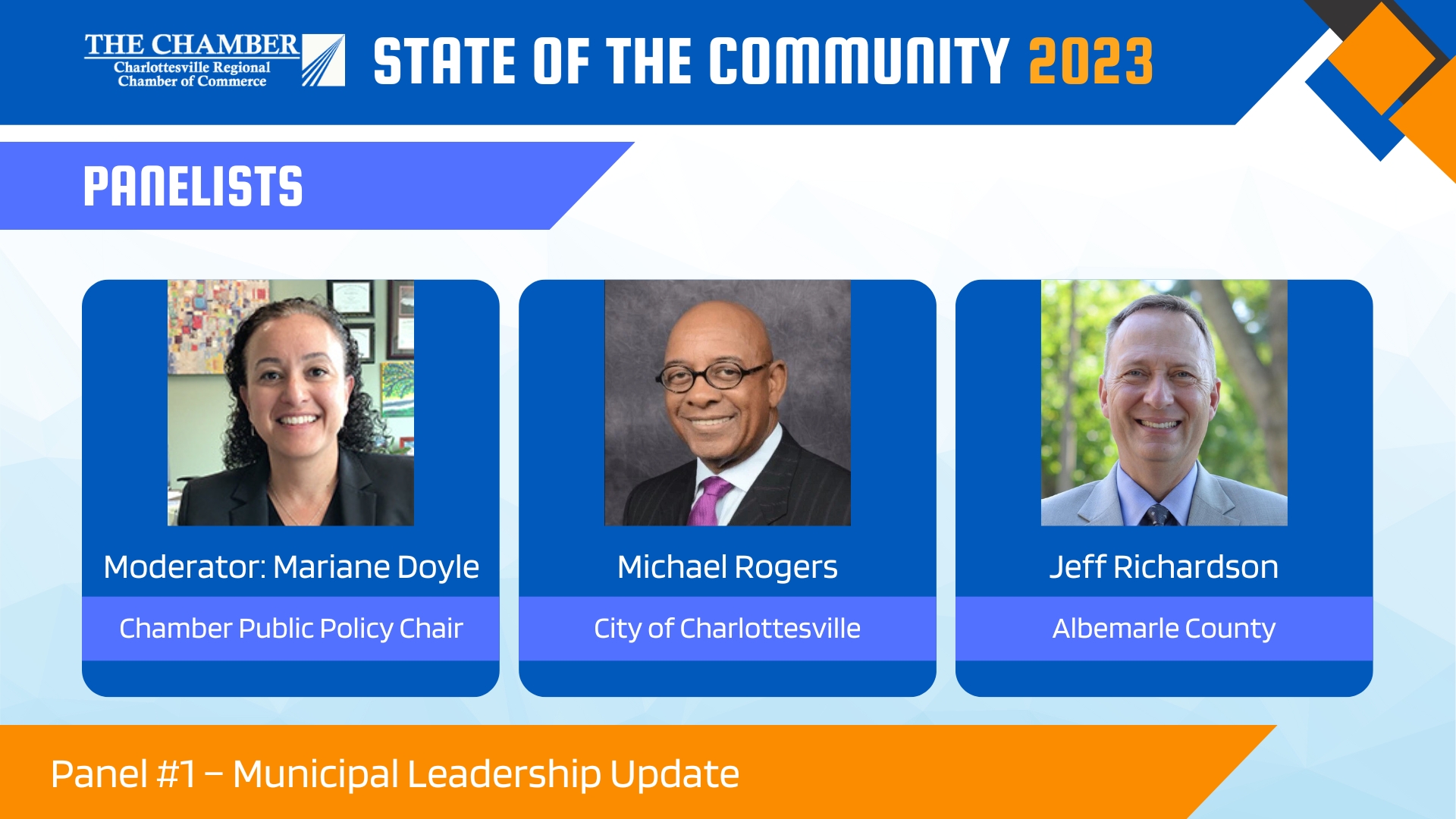 Panel #1 – Municipal Leadership Update (11:05-11:25am)
Chamber 2023 Public Policy Committee Chair Mariane Doyle will moderate a broad discussion of local government successes and priorities.
Panelists:
Michael Rogers, City Manager, City of Charlottesville
Jeff Richardson, County Executive, Albemarle County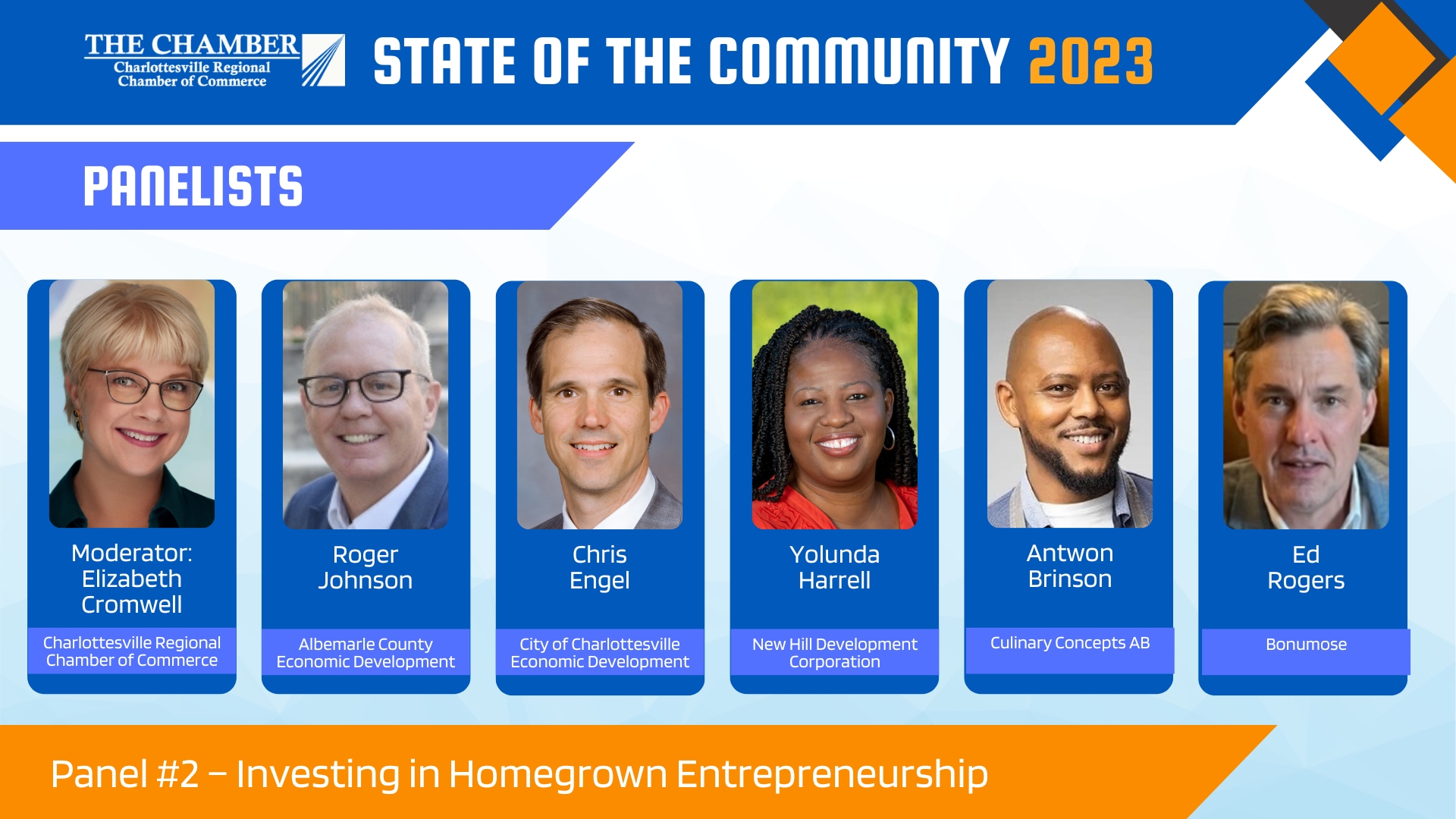 Panel #2 – Investing in Homegrown Entrepreneurship (11:25am-12pm)
Chamber President Elizabeth Cromwell will moderate a conversation highlighting efforts to foster regional entrepreneurial growth.
Panelists:
Roger Johnson, Director, Albemarle County Office of Economic Development; Chamber board member
Chris Engel, Director, City of Charlottesville Office of Economic Development; Chamber board member
Yolunda Harrell, Founder & CEO, New Hill Development Corporation; Chamber board member
Antwon Brinson, CEO, Culinary Concepts AB
Ed Rogers, CEO & Co-Founder, Bonumose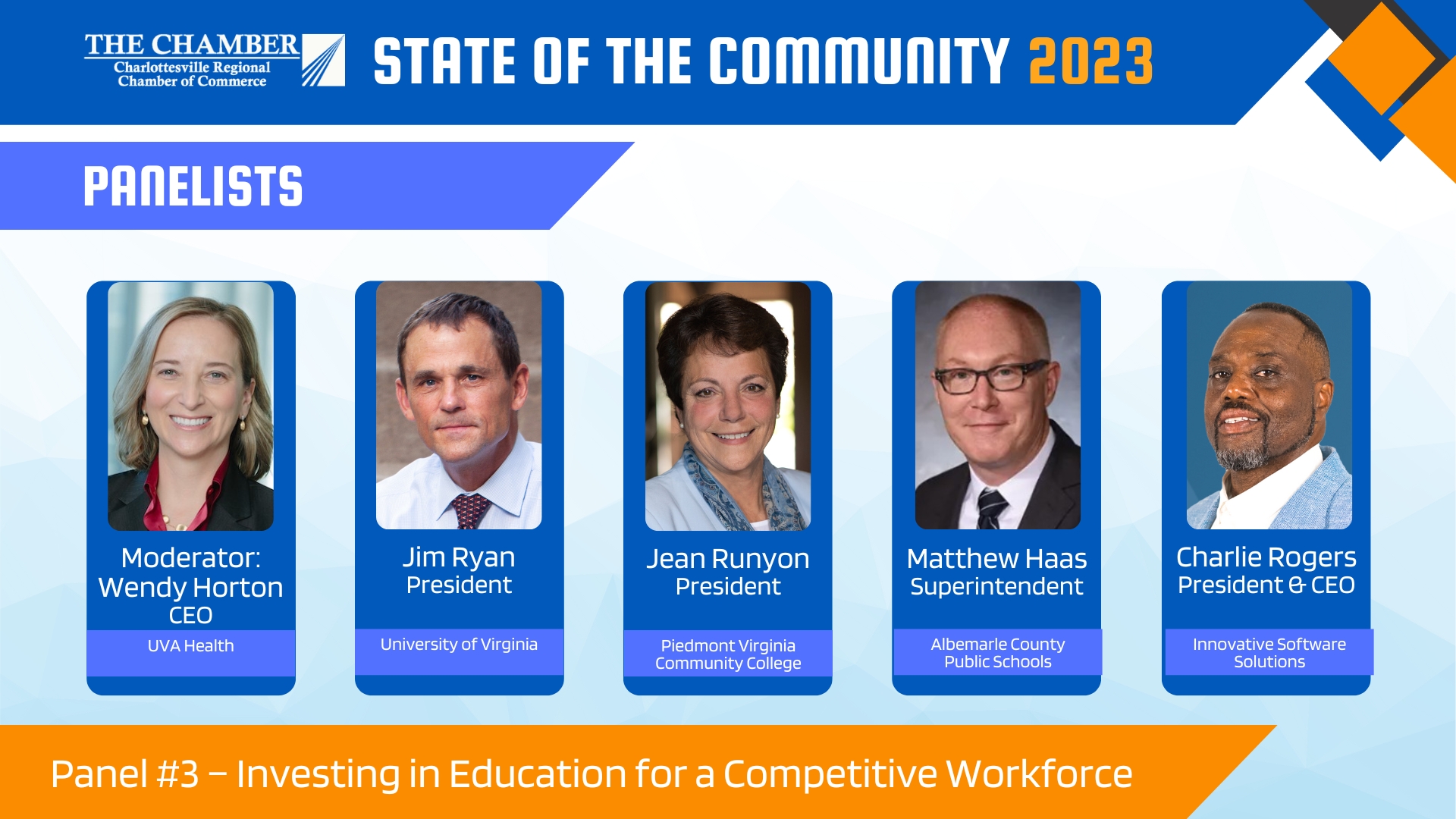 Panel #3 – Investing in Education for a Competitive Workforce (12-12:45pm)
Chamber Board Member Wendy Horton, CEO of UVA Health, will moderate a discussion on developing career pathways through public-private cooperation.
Panelists:
Jim Ryan, President, University of Virginia
Jean Runyon, President, Piedmont Virginia Community College
Matthew Haas, Superintendent, Albemarle County Public Schools
Charlie Rogers, President & CEO, Innovative Software Solutions; Chamber board member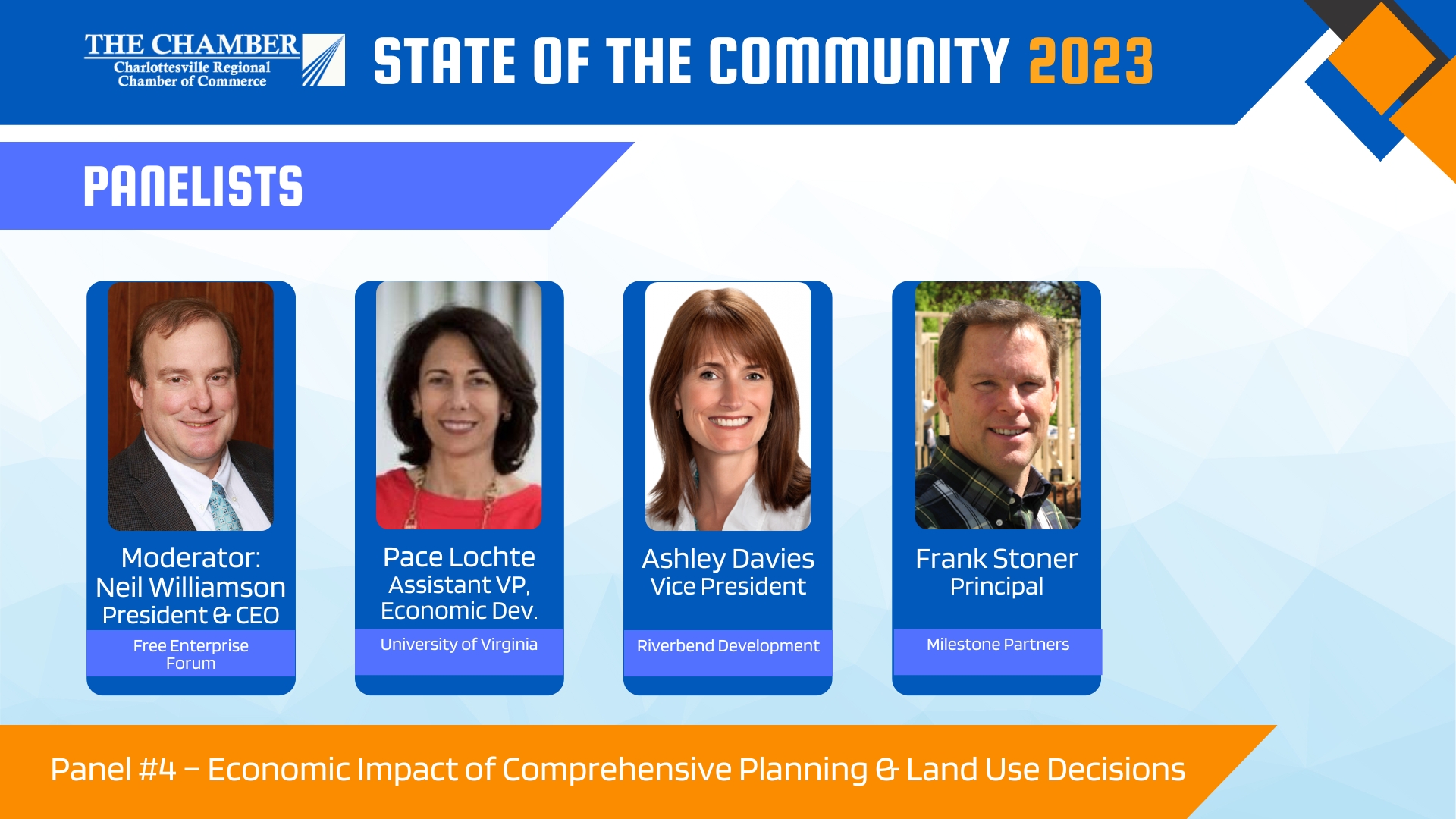 Panel #4 – Economic Impact of Comprehensive Planning & Land Use Decisions (12:45-1:20pm)
Chamber Public Policy Committee member Neil Williamson, President & CEO of the Free Enterprise Forum, will moderate a conversation about comprehensive planning in Charlottesville and Albemarle.
Panelists:
Pace Lochte, Assistant Vice President for Economic Development, University of Virginia
Ashley Davies, Vice President, Riverbend Development; Chair of the Chamber's Charlottesville Area Development Roundtable (CADRe)
Frank Stoner, Principal, Milestone Partners