2023 Business Poll: Your Top Concerns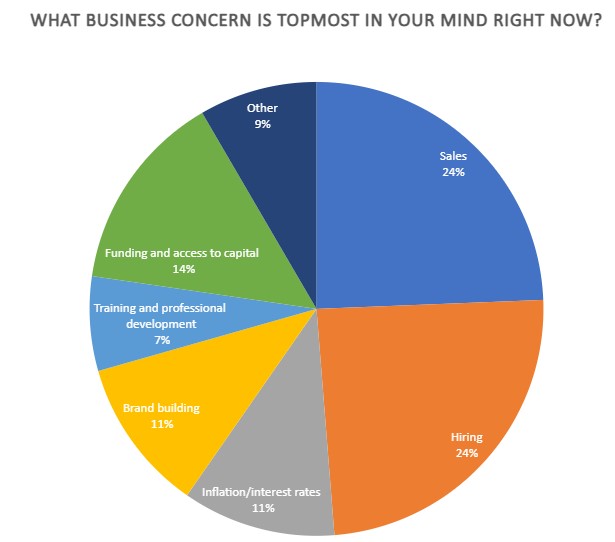 The business landscape is always changing. For the last few years, we've done an annual survey to find out what's keeping our members up at night. It's not a scientific study, but the results help us make sure we offer events and resources that meet the current needs.
This information also impacts the conversations we're having. When we're talking with our members, partners, the media, and the community at large, people look to the Chamber as the voice of business. These surveys are one of the ways we keep ourselves in tune with what's happening.
In this year's poll, sales and hiring were the top two concerns – accounting for nearly half. Inflation & interest rates, as well as funding and access to capital, were the next highest concerns. When we surveyed members last year, those funding concerns ranked a lot lower.
We followed up by asking, "what else is on your mind?" to identify less urgent concerns. Brand building jumped up to first place. Training & professional development also showed up strong.
We also asked specifically about marketing and promotion. The biggest challenges people responded with were lack of time and the cost of marketing & advertising, but we also saw a lot of folks struggling with not having the knowledge and the internal staff to carry out successful marketing.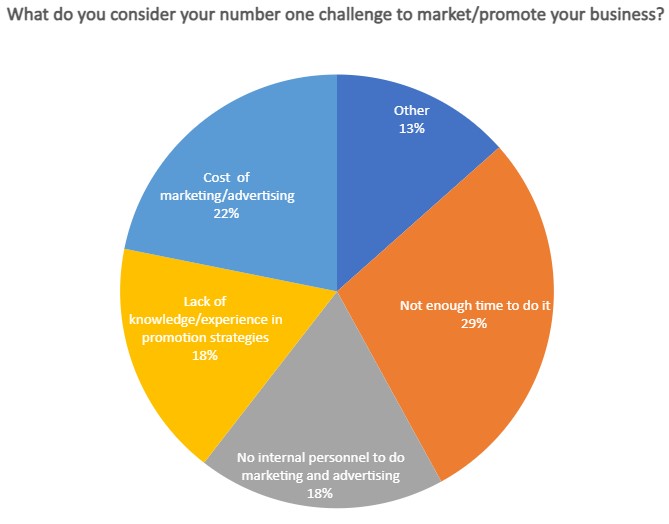 To follow up on these poll results, we'll do what we do best as a Chamber: connect people with existing resources and convene stakeholders to create new solutions.
To support sales, brand-building and marketing, it's clear people need cost-effective solutions that don't demand a huge time investment. One thing we'll start with is sharing some education about successful media advertising. We want to de-mystify the process and also bust the myth that local media advertising is too expensive.
To make progress on those hiring concerns, we'll be inviting local workforce experts and employers to come together for a strategic conversation. Our goal will be to focus in on local solutions for specific hiring challenges that are common in our area. We're also working with partners to plan some educational events, so keep an eye on the calendar!