Chamber "Eggs and Issues" Breakfast Informs Business Leaders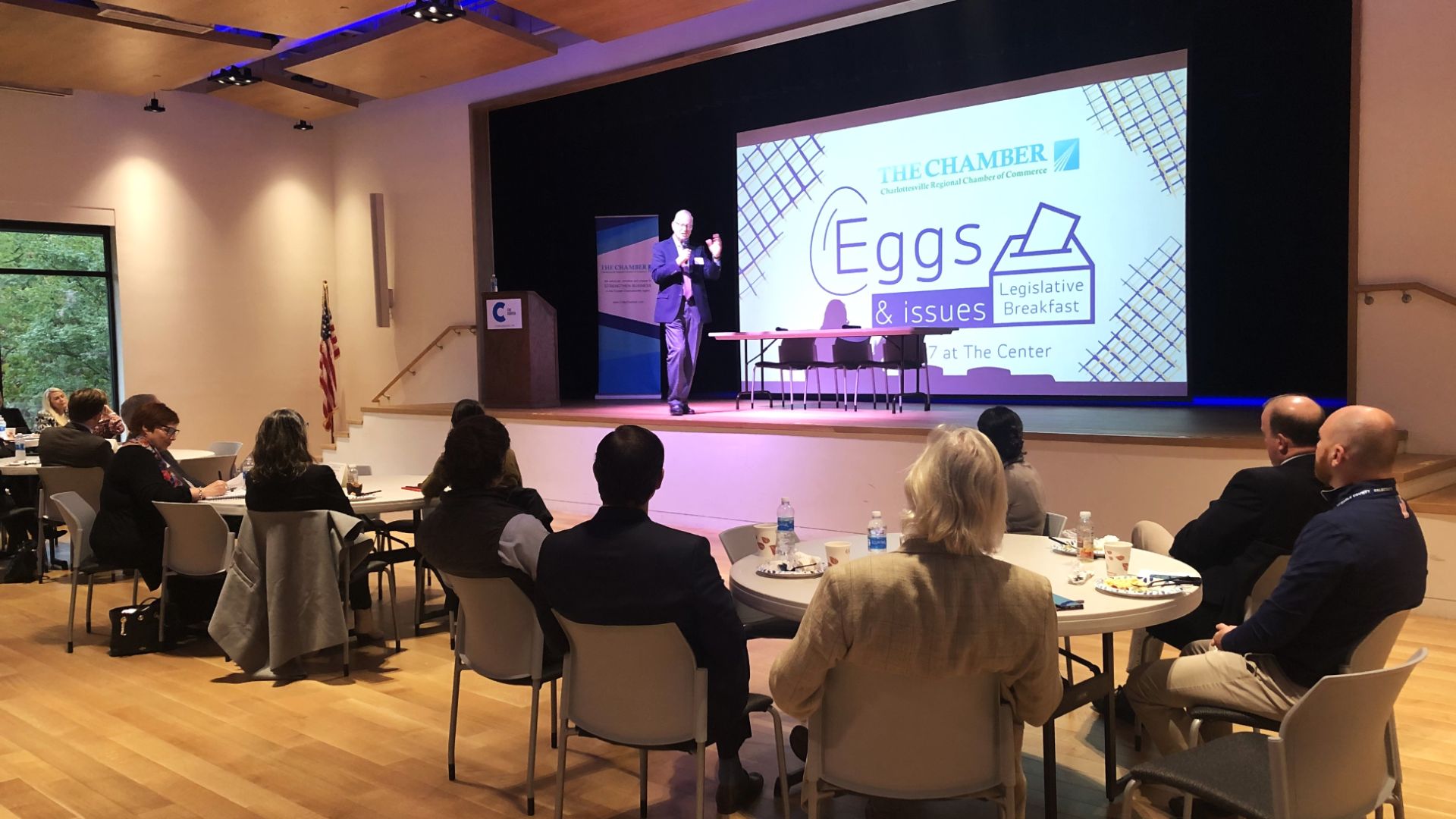 By: Neil Williamson 
Over one hundred business leaders gathered early at The Center on September 27th at the Charlottesville Regional Chamber of Commerce inaugural "Eggs and Issues" Legislative breakfast to receive political updates regarding employment, elections, and much more. 
After a hearty breakfast provided by Croby's Urban Viddles, leading political analyst Dr. Bob Holsworth provided the keynote address outlining how the decennial redistricting dramatically impacted the 2023 General Assembly elections. Holsworth indicated the panel that drew the new districts did not include incumbent addresses in their calculus. Some incumbents were literally drawn out of districts they had represented for decades.  
Holsworth also touched on the balance of power in Richmond highlighting Virginia has had split control of the legislature and the Governor's mansion for most of the last forty years. He indicated that control of the House will likely come down to seven or eight races in the exurbs of Northern Virginia, Richmond, and Hampton Roads. 
Virginia's Deputy Secretary of Labor Anthony Reedy then provided a "View from the Office of the Governor" to the business leaders assembled.  Reedy stated that Virginia's labor rate is currently 66.7%, the highest since 1976, but there is still work to do. Governor Glen Youngkin continues to push for regulatory reform, education investment, and transforming state workforce development services into a single mission focused agency. 
Reedy explained the Governor's new Department of Workforce Development and Advancement (DWDA) objectives and goals to provide a more efficient program delivery platform that is aligned with employer needs. He also stated this new department is designed to better utilize data to empower decision making and develop a comprehensive statewide strategy with regional flexibility. 
The U.S. Chamber of Commerce's Director of the Southeastern Region for Congressional and Public Affairs Clark Jackson provide a Federal political perspective. With a federal government shutdown looming and United Auto Workers (UAW) strike expanding, Jackson outlined how the U.S. Chamber provides the voice for business on Capitol Hill.   
Jackson also expressed concerns regarding the extent of the UAW demands and the potential economic impact of either a prolonged strike or significant changes in pay or benefits. She indicated that a federal government shutdown looks very likely and that historically these shutdowns have been getting longer (2019 was 35 days).   
The three speakers then took questions from the audience relating to immigration, wages and pay equity. Each provided their slightly different perspectives on the political, societal, and economic impacts of these emotionally charged issues. 
University of Virginia McIntire School of Commerce Chief Culture Officer and Chamber Public Policy Committee Chair Mariane Asad Doyle moderated a local leaders panel regarding workforce challenges and solutions. Panelists included: Alexis Ehrhardt, Executive Director for State Government Relations and Special Assistant to the President, University of Virginia, Felix Sarfo-Kantanka Jr., External Affairs Manager, Dominion Energy, and Yolunda Harrell, Founder and CEO, New Hill Development Corp.  
The panel discussion highlighted important linkages between education, workforce development, economic opportunity, attainable housing, and quality childcare. The panelists expressed an overarching theme of government (at all levels) supporting and fostering an environment that promotes individual economic vitality and equitable opportunities. 
Chamber President and CEO Natalie Masri thanked all the speakers and reminded the audience that voting season is now and encouraged everyone to vote. The well-fed and well-informed attendees left the inaugural "Eggs and Issues" legislative breakfast intrigued by the concepts presented.