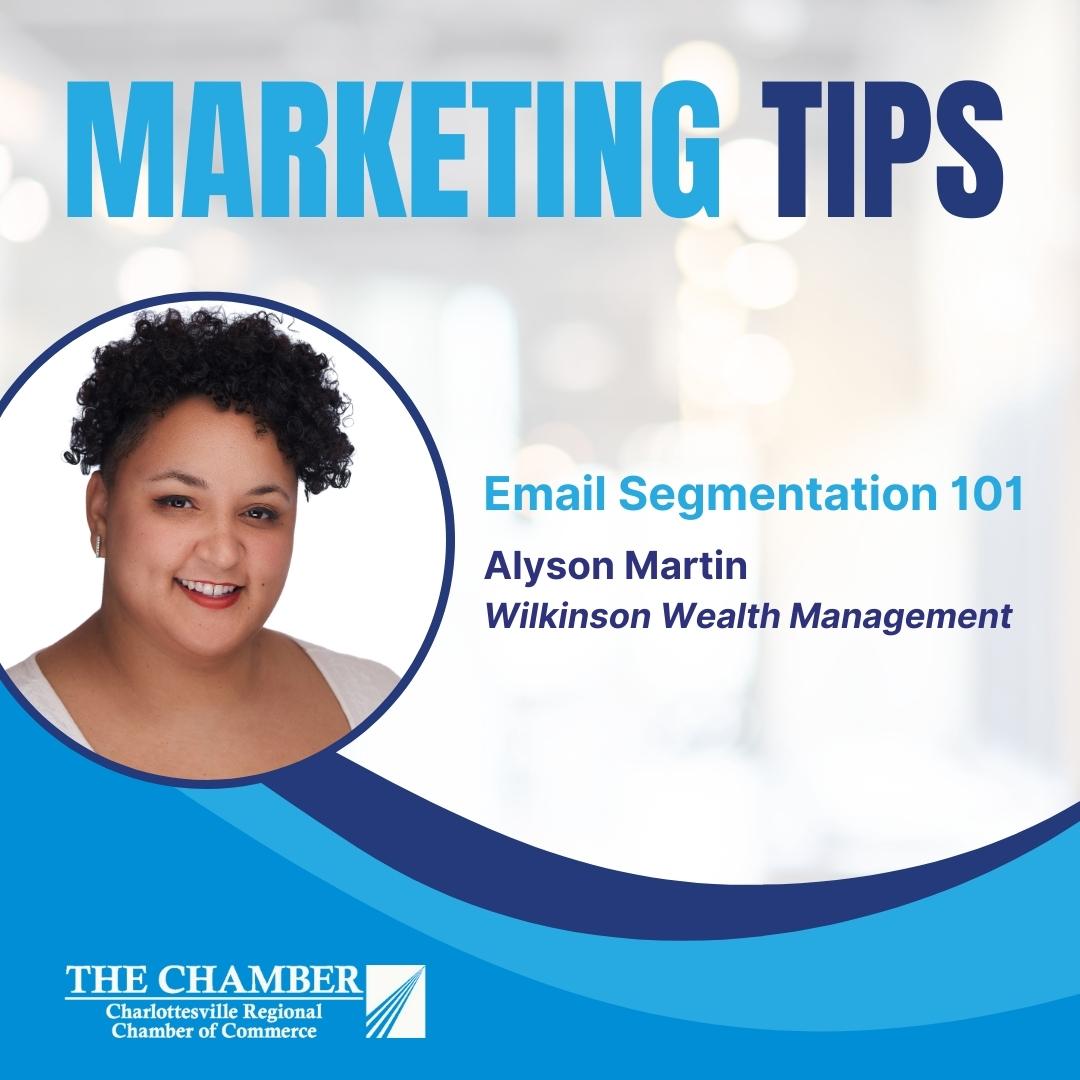 Email segmentation – also referred to as "list segmentation" – is the process of organizing an email list into smaller categories for the purpose of targeted marketing. This idea can be daunting, as even small businesses can have lists with thousands of contacts. But with some dedication and patience, email segmentation can be an effective means of marketing your business as part of your overall strategy.
My name is Alyson Martin, and I am the Manager of Marketing and Events for Wilkinson Wealth Management. I've spent a lot of time researching and implementing email segmentation over the course of my education and career, and I have tips to help you get started!
Benefits of Email Segmentation
Email personalization has had proven success in the world of email marketing (and marketing in general). You can increase open and click-through rates by curating your message and subject line to your recipient list. This makes your subject line more relevant to their personal interests and, by extension, more likely to open the email and answer your call to action.
It also means you can send out emails to smaller lists in rotation, so you are less likely to overmarket to your audience. Email exhaustion is real – if you inundate recipients with irrelevant emails, they are going to unsubscribe to reduce the noise in their inbox. Along the same lines, email segmentation also helps you avoid spam filters and improve deliverability.
Overall, the best way to look at email marketing – and marketing in general – is that less is more, and personalized is better. Email segmentation satisfies both criteria.
Step 1: Choose your email marketing platform
An email marketing platform has two primary functions: the first is to manage, organize, and segment your email list(s). The second is to create, send, and automate marketing emails.
If you don't have an email marketing platform (also referred to as email marketing software), then you need to select one for both short- and long-term benefits and scalability. There are many free and paid options for email marketing platforms, but it's important to choose one based on your business's unique needs.
First, consider the business and marketing platforms you already use, such as ecommerce or customer relationship management (CRM) tools. Prioritizing cohesive integration will make all your marketing more efficient and effective. For example, cross-platform functionality with your ecommerce platform may allow you to send targeted emails to consumers with abandoned carts. And a customer relationship management (CRM) with your contacts synced to your email marketing software will help keep your contacts updated with their most recent email address.
If you have a content management systems (CMS) like WordPress, research email marketing software plugins that are compatible with your platform. Some widely used options are MailChimp, Constant Contact, ActiveCampaign, and Hubspot.
Sometimes a CMS will include email marketing functionality as part of its suite of services, but not always. CMS Hub is the CMS offered via HubSpot, an email marketing software company that has a popular email marketing platform.
Step 2: Identify segmentation categories
How you segment should depend on your unique business strategy. While it's common practice to categorize by demographics such as age, location, gender, or profession, you can also segment via user-generated information such as engagement with your website or status of their cart. Your biggest limitation is going to be what information you can reliably collect on your contacts.
To start, keep things simple with around three categories, and focus on groups you can effectively tailor your messaging to. Brainstorm the kinds of targeted campaigns you could implement based on the information you have collected from recipients. Once you have your list segmented into marketable categories, be sure to tailor your content accordingly. The subject line should instantly communicate the personalized aspect of the email, and not be more generic "marketing speak".
Can you tailor a winter gear sale to customers in regions with cold weather? Can you send an email alert to female customers when there is a sale on women's accessories? Indeed has a great article on ways to identify useful segmentations. Studying competitors in your industry may also help you come up with ideas!
Tracking email metrics is essential for any marketing strategy, including email marketing. Not only are you measuring your return on investment (ROI), but you are also using this information to inform your next strategic pivot. Most email marketing platforms come with tracking functionality and will have instructions on how to view and gather that data that are specific to the software. However, if your marketing tools don't have built in analytics, you can still track pertinent metrics via Google Analytics.
At the very least, you should be tracking open, clickthrough, and bounce rates. It's good to start with a general understanding of how often emails are opened, and how often users follow your call to action and click through to the link provided. You also want to keep your bounce rate very low, to avoid having your IP blacklisted as spam by your ISP.
As you are tracking email metrics, you want to set regular intervals to review data and adjust as needed. It's not enough to "set it and forget it" with any aspect of your marketing. To get the largest ROI for your efforts, you must be proactive and willing to change things up as needed. It will take some trial and error.
For a full understanding of email marketing metrics, I recommend this article by HubSpot. They go over the most relevant email marketing metrics, how each are calculated, and how to interpret the results.
At its core, email segmentation is a way to provide an individualized experience using a mass communication medium. By breaking your email list out into categories, you can more effectively tailor your approach. This has many benefits, but also requires a certain level of investment. Even so, segmentation is one of the most accessible and organic means of marketing your business. Start small, take it step-by-step, and you can utilize this strategy as an important facet of your overall marketing strategy.