Third Annual DAC Military Service Awards Recognize Local Personnel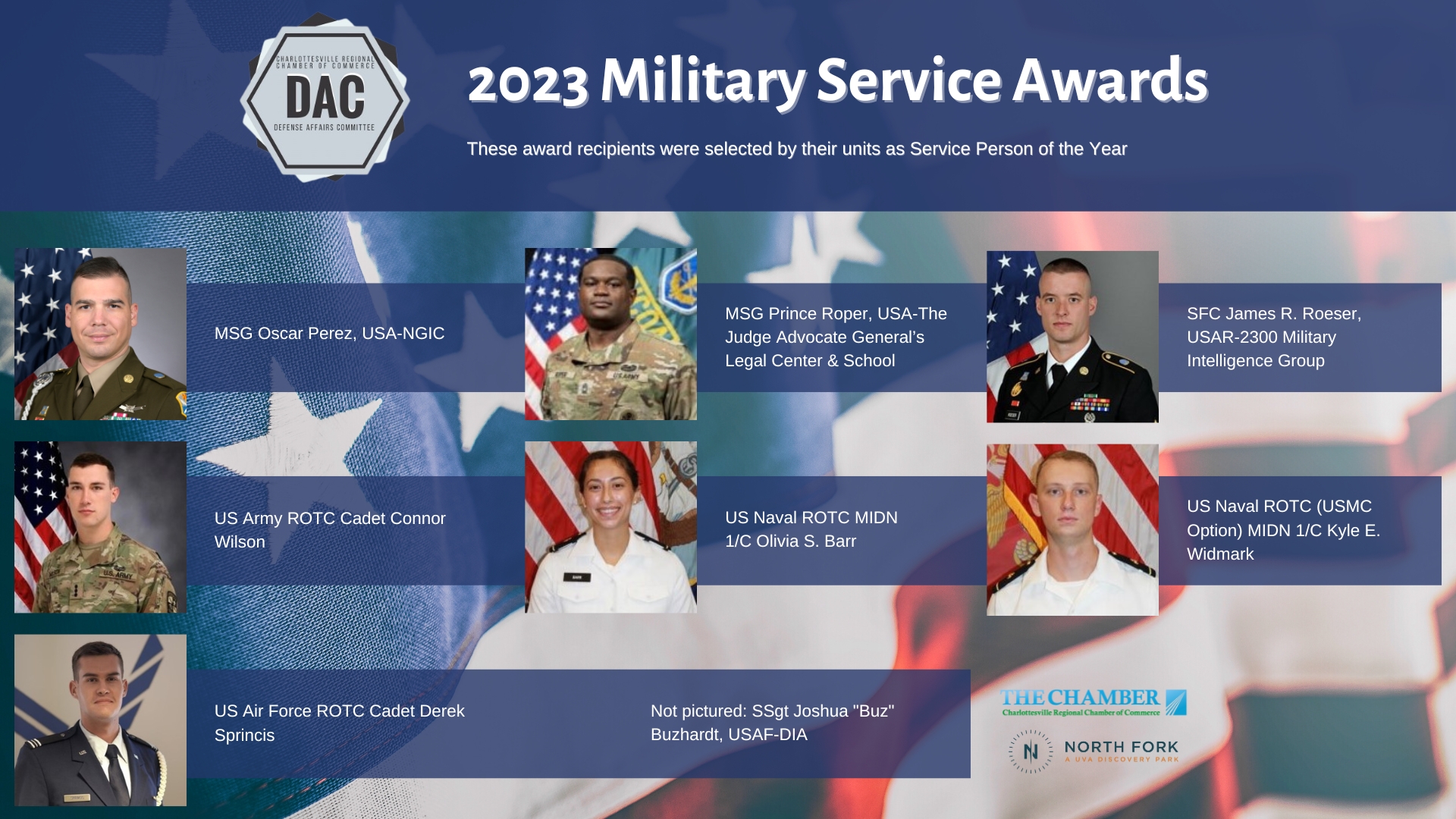 The Defense Affairs Committee (DAC) of the Charlottesville Regional Chamber of Commerce will hold its third annual Military Service Awards on October 26 to show support for local military personnel.
The committee will recognize outstanding NCOs from the National Ground Intelligence Center (NGIC), the Defense Intelligence Agency, the Judge Advocate General's Legal Center & School, and the 2300 Military Intelligence Group, along with select cadets and midshipmen from the Army, Naval and Air Force ROTC programs at the University of Virginia.
"We're honored to recognize these service members, chosen by their units for their extraordinary commitment, skill and dedication," said DAC Program Manager COL (Ret.) Lettie Bien.
The following individuals will be recognized: MSG Oscar Perez, USA-NGIC; SSgt Joshua "Buz" Buzhardt, USAF-DIA; MSG Prince Roper, USA-The Judge Advocate General's Legal Center & School; SFC James R. Roeser, USAR-2300 Military Intelligence Group; US Army ROTC Cadet Connor Wilson; US Naval ROTC MIDN 1/C Olivia S. Barr; US Naval ROTC (USMC Option) MIDN 1/C Kyle E. Widmark; and US Air Force ROTC Cadet Derek Sprincis.
"The Charlottesville Regional Chamber of Commerce recognizes the vital link between military service and the strength of our economy and congratulates this year's deserving recipients of the Military Service Awards," said Chamber President & CEO Natalie S. Masri.
Featured speaker Colonel Jason Bell, Commander, Det 890, UVA USAF ROTC, will speak on "Sustaining National Security – The Human Element."
The Service Awards luncheon, sponsored by the University of Virginia Foundation, will take place on Thursday, October 26, 11am to 1pm at North Fork Meeting Center in Town Center Four. Registration is required, $20 for Chamber members or $30 for nonmembers.