Blueprint for Economic Resiliency and Reinvention in the Greater Charlottesville Region
The Project Rebound Blueprint report, released on June 25, 2020, pulls together initial input from more than 300 local participants. It maps out action steps toward economic recovery and has served to inform recovery efforts by our local businesses, nonprofits, economic development teams, and business support organizations.
For a quick overview, see:
Five Things to Know about Project Rebound (page 7)
Primary Near-Term Opportunities (pages 26-27)
Sector-Specific Actions (starting on page 38)
The need to rebuild consumer, business and workforce confidence was an important theme of local conversations. Participants identified health & safety concerns, an uncertain business environment, and confusion over guidelines as some of the confidence barriers to economic recovery.
Project Rebound continues to share news and convene conversations, fostering collaboration and bringing attention to solutions. We hope you'll join us!
Request a Project Rebound Briefing
Want to go deeper? Request a briefing for your organization's staff, board and stakeholders. We'll meet on Zoom to walk you through the Blueprint findings and answer questions.
Just as importantly, we'll learn about your current work and explore how it fits into the regional economic recovery. As we connect and coordinate responses to the needs identified by Project Rebound, we'll look for ways to boost your efforts. Please contact the Chamber at 434.295.3141 or connect@cvillechamber.com to schedule a briefing.
Primary Near-Term Opportunities
The Blueprint identifies six priority areas for immediate action to bolster confidence and boost the economy, while appropriately reflecting current public health realities:
(1) authoritative safety protocols
(2) trustworthy information sharing and ways to access resources
(3) facilitating access to testing
(4) working with government on emergency policies
(5) continued inclusive conversation
(6) a buy-local initiative
Please see pages 26-27 of the Blueprint (pictured below) for more details about these high-priority opportunities.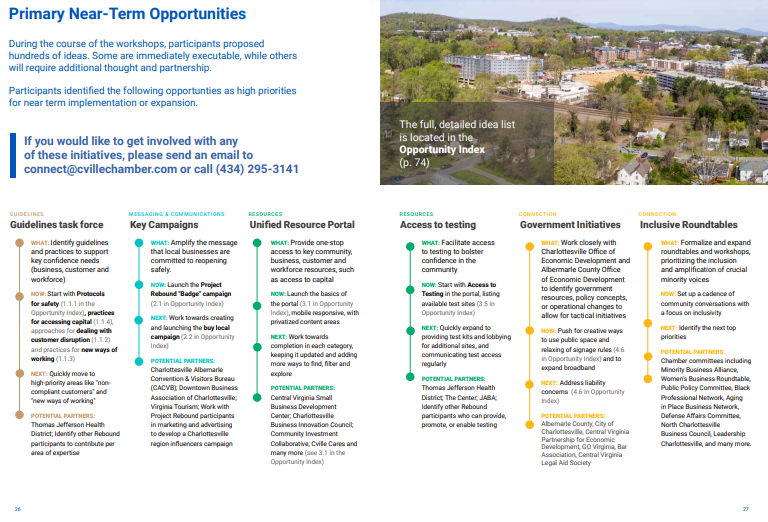 Help us meet the diverse needs of our community by sharing your ideas, suggestions and concerns with Project Rebound. Thanks for contributing!