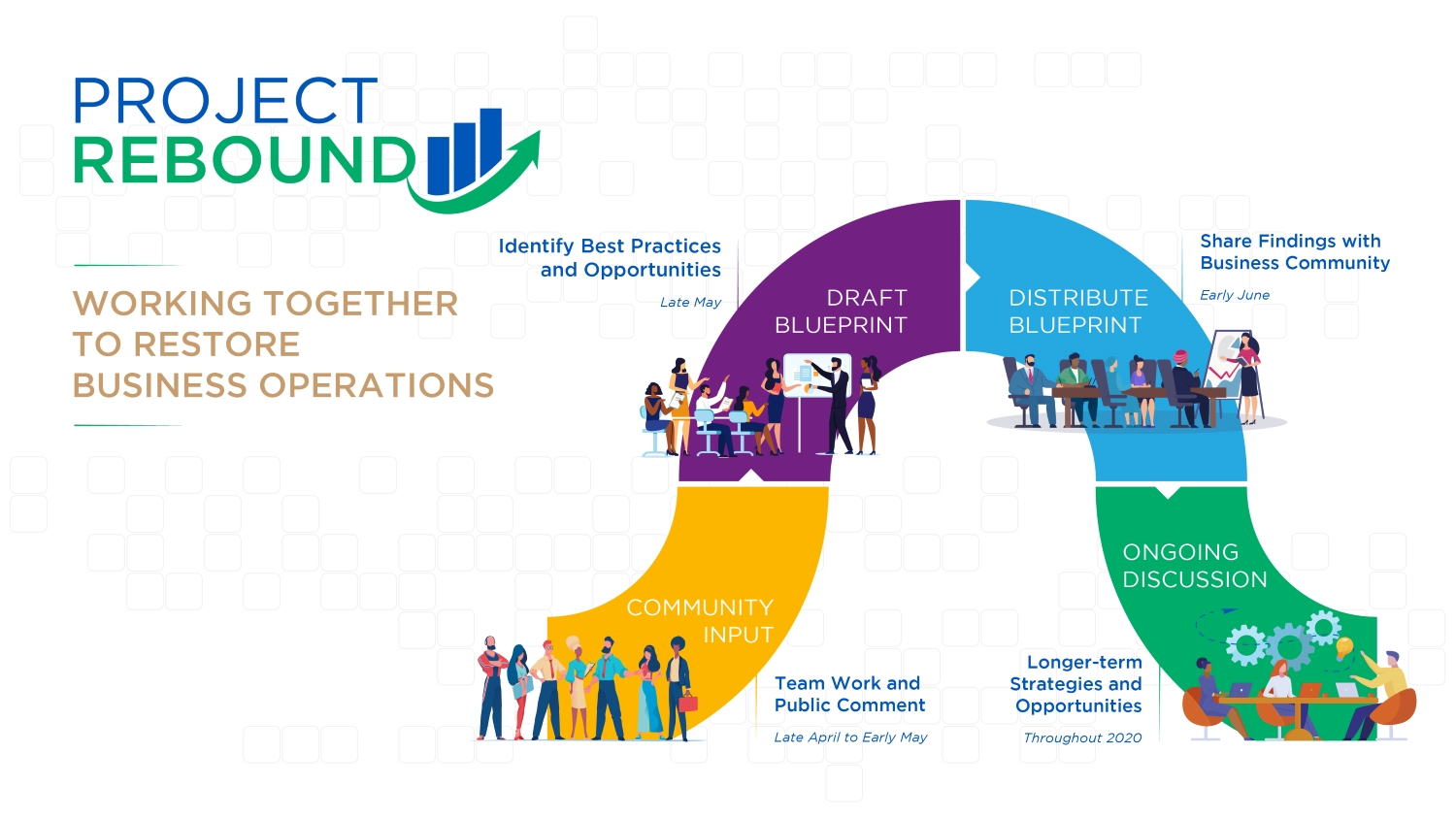 "If you learn to use it right – the adversity – it will buy you a ticket to a place you could not have gone any other way."
– UVA Men's Basketball Coach Tony Bennett, after winning the NCAA national championship, April 2019
What is it for?
Project Rebound will engage business leaders to share insights, identify challenges, and build actionable strategies to restore the local economy in the wake of the COVID-19 crisis.
How does it work?
Seven teams will address specific industries and sectors, working to identify and help craft solutions that can assist businesses in Charlottesville and Albemarle County to emerge from the current stay-at-home order.
Team discussions will build upon those findings to shape a plan for future business resiliency.
Who participates?
The entire business community: business owners and managers, employees, subject matter experts, civic leaders, economic development professionals.
What's the goal?
Identify best practices and responses with proven success; solutions for known challenges and pain points; and future opportunities across multiple economic sectors.
Develop a blueprint for restoring local business operations and building economic resiliency in the wake of COVID-19.
Project Rebound Teams concluded their initial meetings on May 19. The steering committee has begun analyzing the initial findings and will release the results in early June.
Follow and tag #ProjectRebound on Facebook, Twitter, Instagram, LinkedIn
Get email updates: click here to sign up
Who is Leading Project Rebound?
Click here for complete Team rosters.
---
Reviving Small Businesses
Co-Leads:
Yolunda Harrell, New Hill Development Corp.
Rebecca Haydock, Central Virginia SBDC
Protecting the Arts and Creative Economy
Co-Leads:
Chris Eure, The Paramount Theater
Justin Reid, Virginia Humanities
Restarting the Hospitality & Tourism Engine
Co-Leads:
Courtney Cacatian, Charlottesville Albemarle Convention & Visitors Bureau
Russ Cronberg, The Boar's Head Resort
Assessing Key Industry Clusters
Co-Leads:
Helen Cauthen, Central Virginia Partnership for Economic Development
Chris Engel, City of Charlottesville Office of Economic Development
Subgroup Co-Leads for IT, Financial, Defense:
Adrian Felts, Signature Science
Rod Gentry, Albemarle County Economic Development Authority
Subgroup Co-Leads for Biotechnology, Manufacturing, Food & Beverage Manufacturing:
Nikki Hastings, CvilleBioHub
Hunter Smith, Champion Hospitality Group
Leveraging Strengths of Anchor Institutions
Co-Leads:
Jonathan Davis, Sentara Martha Jefferson Hospital
Frank Friedman, Piedmont Virginia Community College
Preparing Vital Infrastructure
Co-Leads:
Chip Boyles, Thomas Jefferson Planning District Commission
Doug Walker, Albemarle County
Rebuilding Nonprofit & Community Organizations
Co-Leads:
Charlene Green, Piedmont Housing Alliance
Ryan Jacoby, Center for Nonprofit Excellence
Partners from across the Charlottesville community are joining forces to strengthen the local economy in the wake of the COVID-19 crisis and beyond. Project Rebound is led by the Charlottesville Regional Chamber of Commerce with support from the City of Charlottesville, Albemarle County, and the University of Virginia.
Steering Team:
Elizabeth Cromwell, Chamber President & CEO
Chris Engel, City of Charlottesville Director of Economic Development
Roger Johnson, Albemarle County Economic Development Director
Pace Lochte, UVA Assistant Vice President for Economic Development
Denise Herndon, UVA Program Director for Economic Development
Project Manager:
Andrea Copeland-Whitsett, Chamber Director of Member Education Services
Communications:
Rachael Hobbs, UVA Office of Economic Development Project Associate
Ann Marie Hohenberger, Chamber Marketing & Communications