Meet the Cville Chamber Rising Professionals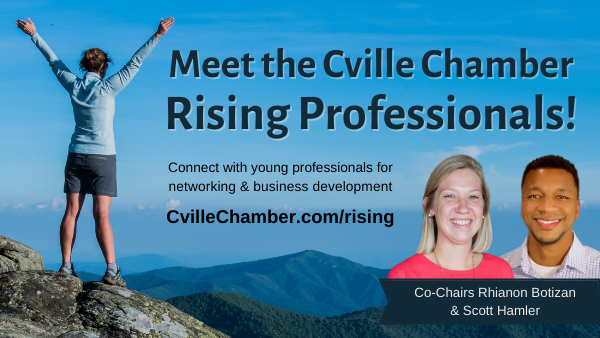 Young professionals in the Charlottesville area have a new opportunity for networking with their peers and building business connections.
The Charlottesville Regional Chamber of Commerce has launched Cville Chamber Rising Professionals, a business networking group focused on people under 40. Chamber members have jumped in to help organize the group and provide leadership.
"We've needed a group like this in Charlottesville for a long time," said co-chair Rhianon Botizan of Pippin Hill Farm & Vineyards. "People have been going to Richmond to network with other young professionals, and we're thrilled that the Charlottesville Chamber has stepped in to meet this need."
Following a high-energy launch meeting via Zoom in August, Botizan and co-chair Scott Hamler of Forezee Marketing Solutions worked with Chamber President & CEO Elizabeth Cromwell to choose a dynamic group of volunteers for the Rising Professionals steering committee.
Steering committee members will include: Kirsten Ashbaugh, Wilkinson Wealth Management, LLC; Russ Cronberg, Boar's Head Resort; Anna Isserow, Community Investment Collaborative; Matt Lawless, Town of Scottsville; Scott Raney, Flora Pettit PC; Emily Rosenberger, Alzheimer's Association of Central and Western Virginia; Zoie Smith, City of Charlottesville Office of Economic Development; Giles Sydnor, Wells Fargo; Shannon Temlak, Flora Pettit PC; and Myles Wood, Tom Tom Summit & Festival.
"This group is a great way of connecting up-and-coming members of our community together – individuals that aren't brand new to their career, but who also aren't super well established," said Hamler.
Rising Professionals will strive to make connections with young professionals through business development and community engagement. The group is open to Chamber members and non-members alike.
The group will meet virtually at first, in keeping with the Chamber's current policy to forego in-person meetings during the COVID-19 pandemic.
Learn more about Rising Professionals and sign up for event news at www.CvilleChamber.com/rising.