Welcome to the Charlottesville Regional Chamber of Commerce
We are the area's broadest, most diverse network of business, nonprofit and civic organizations. Join us to build your business and our community.
COVID-19 Business Updates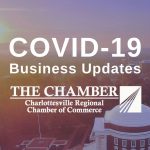 While details are pending on the new stimulus package, Central Virginia SBDC shares some highlights and advice for businesses.