The Minority Business Alliance would like to wish our members, sponsors and supporters a Merry Christmas, Happy Holidays and prosperous New Year! Despite 2020's many challenges, we're excited to share with you some good things that have happened this year.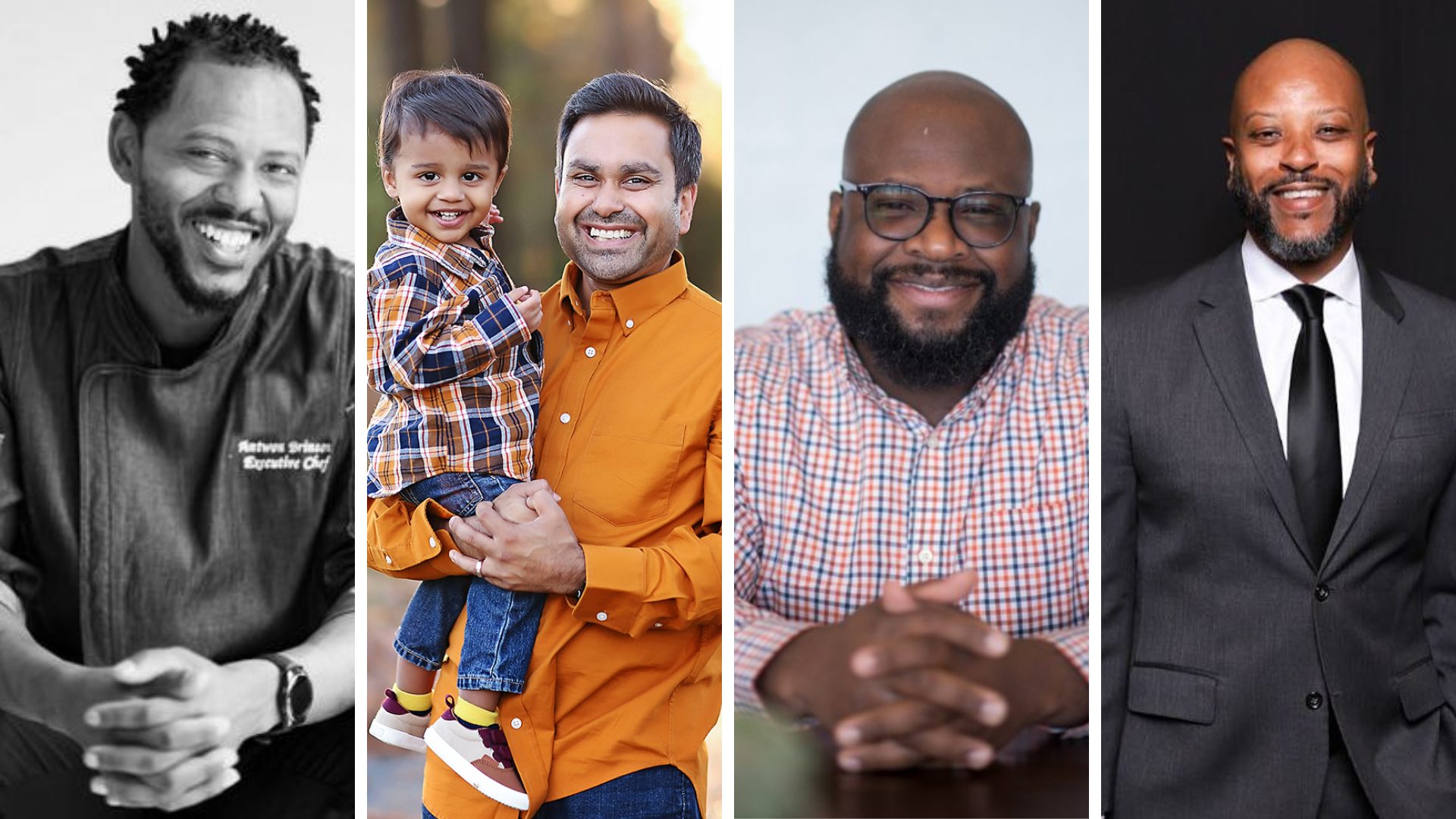 MBA Endurance Fund recipients: Antwon Brinson of Culinary Concepts AB, Pranav Shah of Fuzzy's Taco Shop, Sober Pierre of Pearl Island Café & Catering, Ty Cooper of Lifeview Marketing & Visuals
COVID Relief Support for Small Businesses
MBA Endurance Fund
Since we were unable to host our annual luncheon this year, we decided to use our luncheon funds to support four MBA members through our MBA Endurance Fund. Each recipient received $1000 to be used toward business expenses.
United Way of Greater Charlottesville Partnership
Thanks to two grants totaling $80,000 provided by our partner-friends at UWGC, 12 MBA members are able to keep their businesses operational during this pandemic.
Home Instead Senior Care Donation
Upset to hear about the disparity in black owned business benefiting from the PPP program and the alarming rate of black owned businesses going under, Jeanne McCusker with Home Instead Senior Care donated $1000 to the MBA Endurance Fund.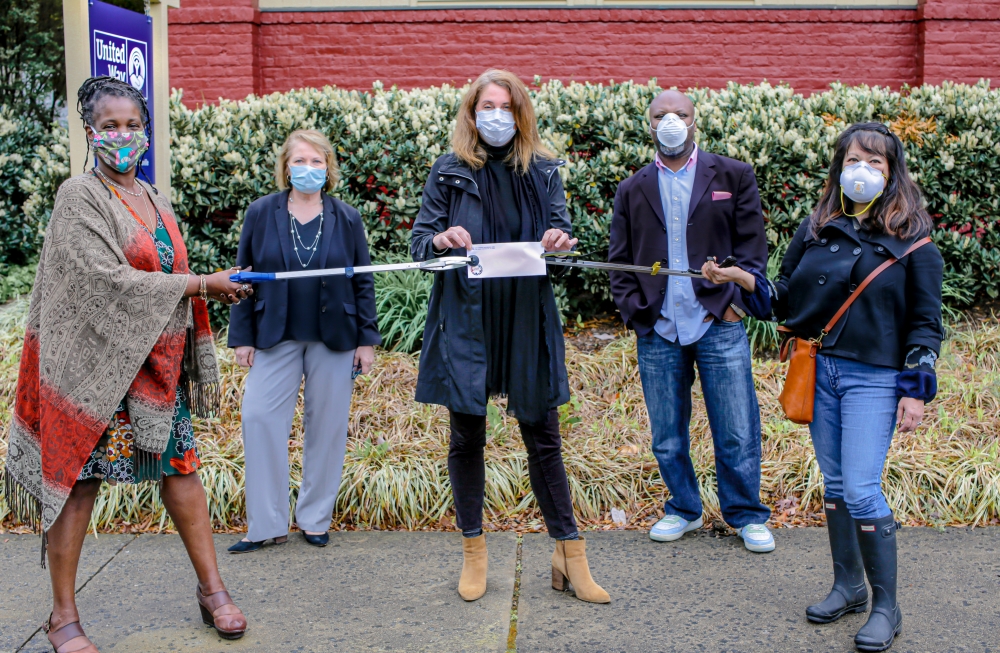 Libby Edwards-Allbaugh of The Tax Ladies, Inc. (left), and Julie Whitaker of Vu Noodles (right) receive grants through the MBA partnership with UWGC.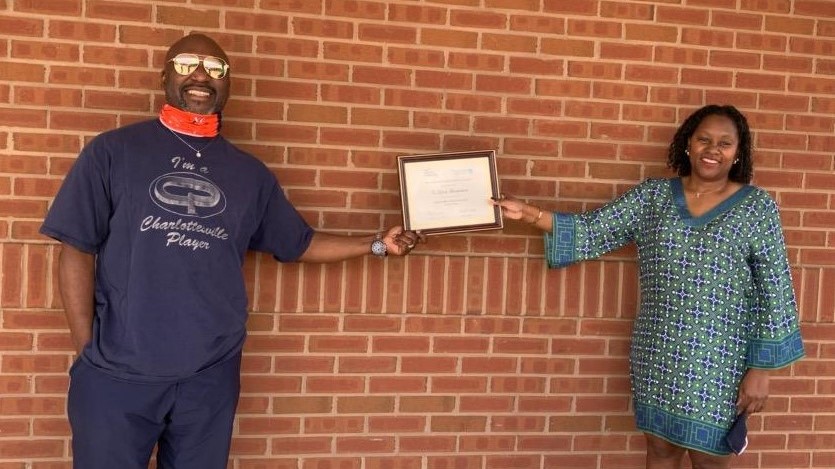 Quinton Harrell LC '16 presents Leadership Charlottesville 2020 graduation certificate to S. Lisa Herndon.
MBA Member Recognitions & Graduation
Libby Edwards-Allbaugh was selected the 2020 recipient for the Quadruplicity award. Libby was recognized at BWRT's Quadruplicity Women's Conference in June.
Sober Pierre and Javier Figueroa-Ray received the Chamber's 2020 Christopher Lee Small Business Person of the Year award. Quinton Harrell and Antwon Brinson received the new Alley-Oop and Pivot award respectively. All were recognized at the virtual Chamber Rebound Ball earlier this month.
MBA liaison Andrea Copeland-Whitsett received the Leadership Charlottesville Alumni Association Leaders' Leader Award at the annual alumni meeting in January.
Ty Cooper, S. Lisa Herndon, Treat Jackson and Zoie Smith successfully completed Leadership Charlottesville, becoming graduates of the Class of 2020.
MBA Sharing Their Expertise, Getting Involved
Executive Committee presented to Association of Chamber of Commerce Executives DEI Round Table as well as shared with Senator Mark Warner and Comcast RISE about our efforts in supporting the minority business community.
Members participated in Project Rebound industry and community conversations.
Executive Committee and members serving as leaders and supporting other Chamber affinity groups and committees, including the Chamber board, the new Rising Professionals and the Equity Committee.
Recognizing now more than ever that staying connected was crucial for our members, we continued hosting our monthly meetings via a virtual platform, getting great responses from participants and facilitators. Blue Ridge Bank sponsored our 4-part "Let's Talk About Money" finance series.
All our 2020 meetings can be viewed on the MBA Facebook page.
Next meeting: January 26, 2021, 12-1pm on Zoom. Register