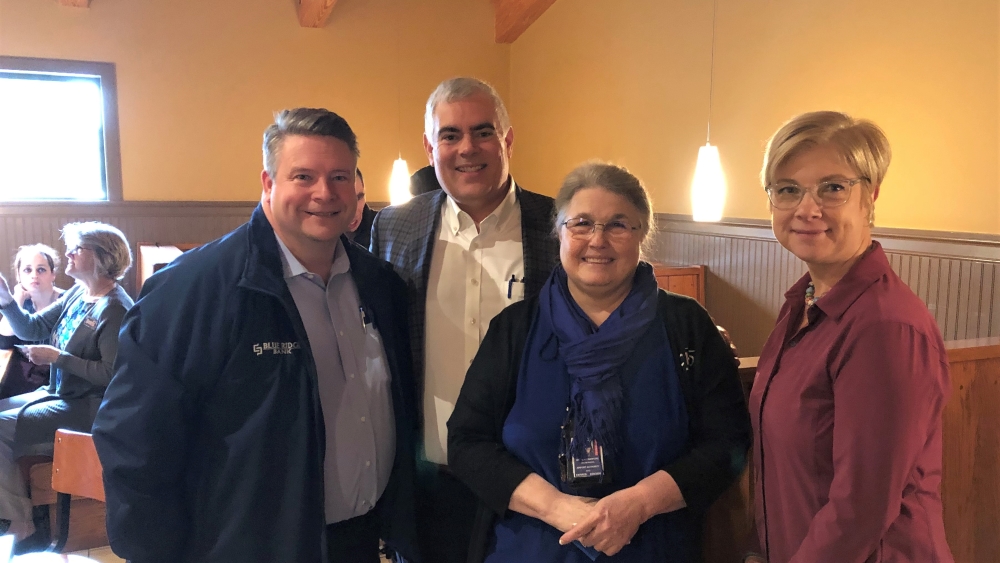 Melinda Crawford, executive director of the Charlottesville Albemarle Airport (CHO), spoke about the airport's passenger growth and plans for expansion at the January 2020 North Charlottesville Business Council (NCBC) meeting.
While some regional airports in Virginia have lost traffic or held steady, CHO's passenger trips have increased dramatically in the last 10 years, surpassing 750,000 in FY19. The airport is financially self-sufficient, with parking and rental cars accounting for much of its income.
Crawford emphasized that the airport serves as a "front door to the community" for many visitors, and a terminal master plan is underway to plan future improvements. CHO Marketing Specialist Stewart Key pointed out that in-terminal advertisements have a tremendous reach for local businesses looking to attract tourist traffic.
Major plans also include expanding the air carrier apron to accommodate more planes, expanding the existing parking lots & improving access, and building a parking deck. While some airport projects are funded by the FAA and the Virginia Department of Aviation, CHO will also take on some debt.
Attendees had a lot of questions about future routes, especially service to Boston. Crawford and Deputy Executive Director Jason Burch said they meet frequently with airlines, but it's a very lengthy process. Charlottesville is in competition with other airports, some of whom have millions of dollars in incentives set aside. The most important step, they said, is being able to demonstrate sufficient demand.