Project Rebound Wins GO Virginia Grant to Support Regional Economic Recovery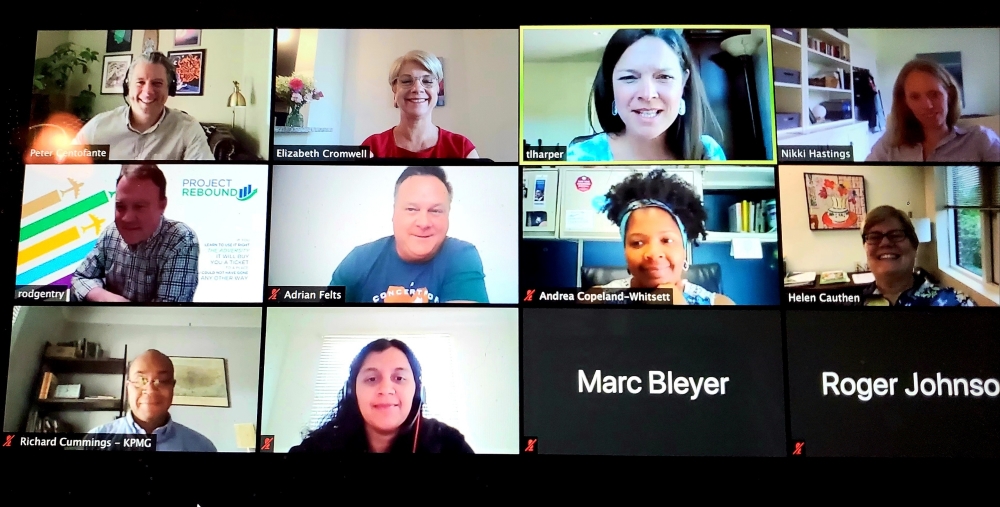 The GO Virginia Region 9 Council has awarded an Economic Resiliency and Recovery (ERR) Grant to the Charlottesville Regional Chamber of Commerce in support of Project Rebound, a local economic recovery initiative.
Project Rebound is led by the Chamber and economic development partners at the University of Virginia, Albemarle County, and the City of Charlottesville and supported by volunteers and financing from the City and County.
A portion of the $80,000 grant will go toward training and resources as businesses reopen following Virginia's stay-at-home order, which is set to be lifted June 10.
The funding also will underwrite production of a "Blueprint" report by KPMG, the U.S. audit, tax and advisory firm. The report, scheduled for release in mid-June, will map out economic recovery action steps for the business community.
"We are thrilled to work with KPMG to produce a strong economic recovery Blueprint," said Chamber President & CEO Elizabeth Cromwell. "We want to see local businesses and families not only regain their footing but find new opportunities to thrive amid this crisis, and we believe the Blueprint will help get us there."
"The report will be deeply rooted in local knowledge of Charlottesville and Albemarle County, thanks to thoughtful input from hundreds of stakeholders," Cromwell said. "We also hope to identify broader insights that can help other regions along the road to recovery."
A nine-person team from KPMG will analyze data from multiple stakeholder meetings, interview individual stakeholders, pull in regional demographics and economic benchmarks, and develop a dashboard to monitor economic impacts as the community moves forward with recommended actions.
"Our team is excited to be part of a process with such enthusiastic support from the community," said Tricia Harper, KPMG Advisory Partner and Lead Partner for the Commonwealth of Virginia.
Between April 29 and May 19, more than 300 participants took part in team meetings and community conversations on Zoom. The University of Virginia's Office of Organizational Excellence team provided group facilitation for innovative virtual stakeholder engagement.
Seven industry-specific teams contributed their unique perspectives toward questions such as "What is working well now that may be transferrable to the economic restart?" and "What needs our immediate attention as we consider a phased reopening?"
Project Rebound Continues
Project Rebound will announce details soon for several June initiatives in parallel with development of the Blueprint report:
Distributing a Reopening Toolkit for local businesses
Producing additional resources to assist businesses during Virginia's phased reopening
Planning ongoing meetings for team participants to continue working together
Please visit www.cvillechamber.com/rebound to learn more.
GO Virginia ERR Grant Program
GO Virginia is a statewide economic development initiative designed to help grow and diversify regional economies and increase wages in every region of the Commonwealth. The Economic Resiliency and Recovery Grant (ERR) program was created in April in response to the unprecedented economic conditions facing Virginia due to COVID-19. More information can be found at www.GOVirginia9.org.