Thank a Chamber Volunteer Today
April is National Volunteer Month, and we'd like to thank our dedicated member volunteers. Special appreciation goes to our affinity group leaders. Their perseverance has kept the groups going strong throughout the pandemic.
We're eternally grateful to each of these leaders. Please reach out to them and say thank you!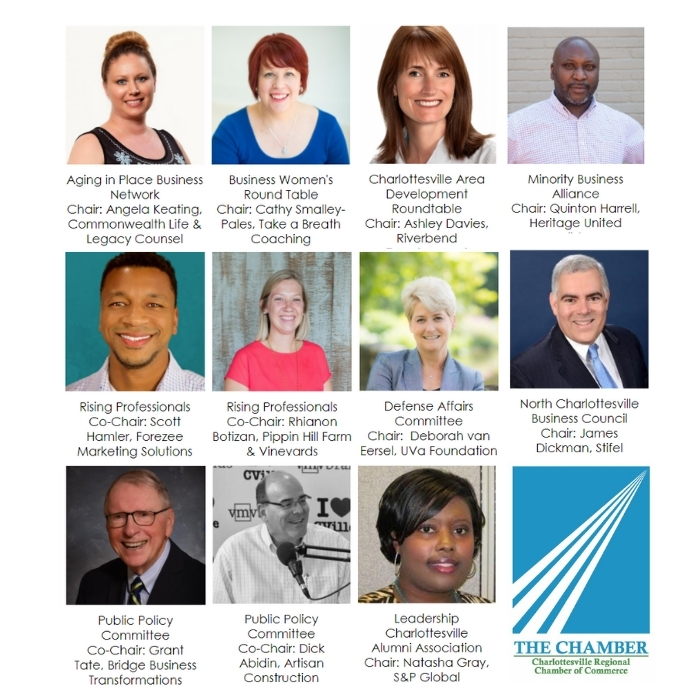 Guy Browning, MPS
Chairman of the Board
Simone Alley, Piedmont Virginia Community College
Governance Committee Chair
Colette Sheehy, University of Virginia
Treasurer / Finance Committee Chair
Keith O'Neil, UVA Community Credit Union
Equity Advisory Committee Chair
Cristine Nardi, Center for Nonprofit Excellence
Past Chairwoman of the Board
Christy Phillips, WillowTree
Executive Committee At-Large Member
Melvin Burruss, Attorney at Law
Peter Caramanis, Royer Caramanis PLC
Kara Chandeysson, Ting
Chris Engel, City of Charlottesville Office of Economic Development
Yolunda Harrell, New Hill Development Corporation
Wendy Horton, UVA Health
Kirby Hutto, Sprint Pavilion
Roger Johnson, Albemarle County
Arlene Lee, R. E. Lee Companies
Ravi Respeto, United Way of Greater Charlottesville
Antonio Rice, Jobs for Virginia Graduates
Charlie Rogers, Innovative Software Solutions
Charles Rotgin, Great Eastern Management Company
Jeffrey Thomas, SHINE Systems
Sasha Farmer Tripp, Story House Real Estate
Brinson White, Blue Ridge Title
Keith Woodard, Woodard Properties
Kathy Allerton, AiPBN Vice Chair, IKOR of Charlottesville
Susanna Guzman, BWRT Speaker Chair, 1550 Consulting
Devy Goradia, BWRT Community Outreach, Accounting Solutions PLLC
Karen Kehoe, BWRT Social chair, RE/MAX Regency
Kristin Sorotki, BWRT Ambassador, Story House Real Estate
Erin Hannegan, CADRe Communications, Mitchell Matthews
Kaye Monroe, MBA Vice Chair, VA Dept. for Aging & Rehabilitative Services
Alex Urpi, MBA Treasurer, Emergent Financial Services, LLC
Chris Scharnbeck, NCBC Co-Chair, Blue Ridge Bank
Rising Professionals Steering Committee:
Kirsten Ashbaugh, Wilkinson Wealth Management, LLC
Russ Cronberg, Boar's Head Resort
Anna Isserow, Community Investment Collaborative
Matt Lawless, Town of Scottsville
Scott Raney, Flora Pettit PC
Emily Rosenberger, Alzheimer's Assoc. of Central and Western Virginia
Giles Sydnor, Wells Fargo
Shannon Temlak, Flora Pettit PC
Myles Wood, Tom Tom Summit & Festival
Public Policy Steering Committee:
Pete Caramanis, Royer Caramanis
Chris Engel, City of Charlottesville Office of Economic Development
Charles Hartgrove, Weldon Cooper Center for Public Service
S. Lisa Herndon, Keller Williams Alliance
Donald Long, Flora Pettit
Valerie Long, Williams Mullen
Brad Sheffield, JAUNT
Neil Williamson, Free Enterprise Forum
Leadership Charlottesville Alumni Association Board:
Cal Beasley, CFA Institute
Will Crutchfield, Crutchfield
Scott Hamler, Forezee Marketing Solutions
Susan Thomas
Rhett Adams D.C., Venture Chiropractic
Devy Goradia, Accounting Solutions PLLC
Robin Kaczka, Rodan & Fields
Karen Kehoe, RE/MAX Regency
Liz Knutsen, Mac Weems State Farm
Troy Lane, First Heritage Mortgage
Janice O'Hara, CTI Real Estate
Kristin Sorokti, Story House Real Estate
Ed Stockwell, Crutchfield