BWRT Connections Luncheon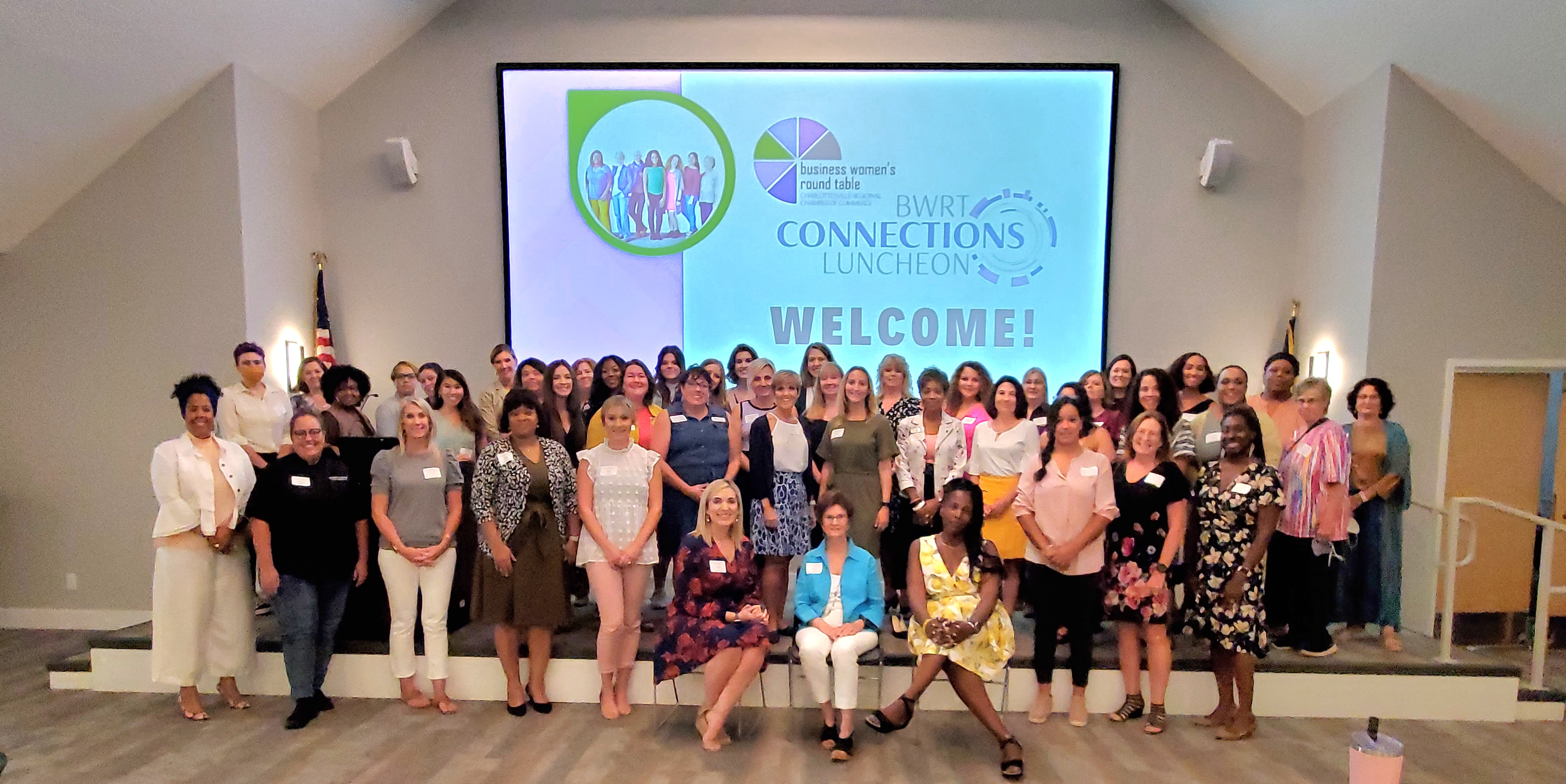 "We move fast alone, but far together." Liza Borches
Wow! No truer words can be said, especially when talking about how we as women can honor, engage and inspire each other. What an amazing turnout at our first Connections Luncheon on August 18th – it was so great to see everyone!
The Business Women's Round Table Executive Committee wanted to have a mid-year event that was fun, energetic and inspiring to bring past, current, and new or potential members together in one space. We want the women of our community to be excited about connecting with one another and supporting each other. After a few years of going back and forth between virtual and in-person meetings, we knew that our members would appreciate an opportunity to reconvene in person.
Scroll down for more photos!
THANK YOU to everyone who joined us last month. We know we all took away something special from each of our fabulous speakers.
THANK YOU to Liza Borches, Libby Edwards-Allbaugh and Sasha Tripp for taking time out of your busy day to share your inspirational stories with us.
We also want to say THANK YOU to our generous sponsors: Neroli Med Spa & Beauty Lounge, Robbins Staffing Solutions, JABA and Hillsdale Conference Center. BWRT truly appreciates your support.
Our organization exists to lay the groundwork for a system that allows women to support each other in their careers, goals and lives, which in turn helps us all be more successful in our professions. We hope you will join us in this effort. We look forward to seeing you again this fall at any (or all!) of our upcoming events! We have a full line up scheduled for the remainder of 2022. Click here to see upcoming events.
For those who have expressed an interest in volunteering with BWRT in any capacity, stand by - the Executive Committee will be following up with you soon!
Best,
Janie Kast, chair
Bunmi Adeeko Collins, vice-chair
Luncheon sponsor, Neroli Med Spa & Beauty Lounge was unable to join us for the luncheon and speak during the sponsor acknowledgements, so we have given business owner, Suzanne Owen, an opportunity to share about her business:
Neroli Med Spa & Beauty Lounge has been meeting the aesthetic needs of Charlottesville women since 2006. Founded by Suzanne Owen, a former Estee Lauder executive turned Spa-ntrepreneur, Neroli Med Spa puts the Spa in Med Spa by curating unique offering of medical and day spa treatments in a one-of-a-kind setting at the heart of the West Main Street revival, next to the Quirk Hotel.
Every service is administered by our highly trained staff and medical professionals in a beautiful spa environment that encourages you to feel your best while we help you look your best. Our medical director, Dr. Robert Schmidt, is a double board-certified Facial Plastic Surgeon who oversees a team of expert injectors, laser technicians and medical estheticians trained in the latest techniques, technologies and products.
In our Med Spa, we know our clients are always the same vibrant and beautiful human on the inside, and our results-driven Medical Grade treatments including fillers and injectables, laser hair removal, CoolSculpting and chemical peels will help you confidently showcase your beauty on the outside as well. Inside our doors you'll also shop unmissable Medical Grade skincare, medical esthetic services and treatments found only here. Neroli Med Spa is the highest rated spa on Google and TripAdvisor, a favorite of locals and visitors alike.
507 West Main Street, Charlottesville, VA 22903
Neroli-spa.com